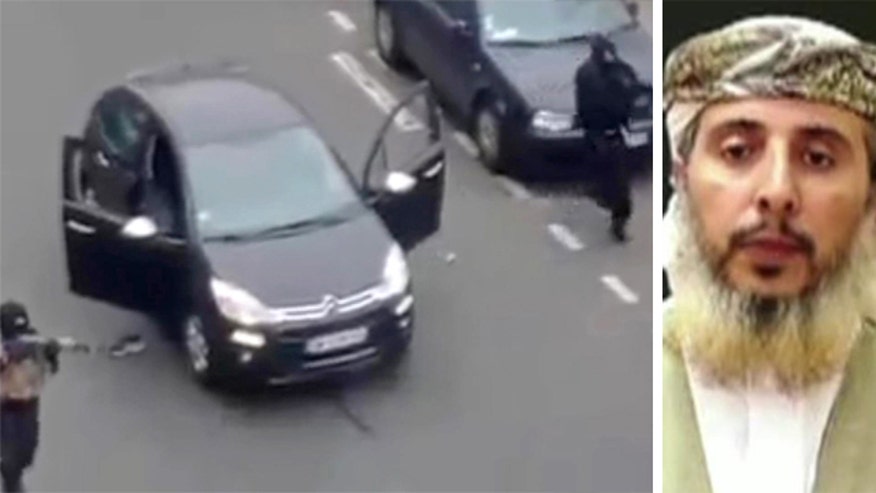 Al Qaeda's affiliate in Yemen has released a video claiming responsibility for last week's deadly attack by two gunmen on the offices of the satirical newspaper Charlie Hebdo in Paris.
Nasr al-Ansi, a top commander of Al Qaeda in the Arabian Peninsula, or AQAP as the branch is known, appeared in an 11-minute Internet video posted Wednesday, saying that the massacre was in "vengeance for the prophet." A U.S. intelligence source told Fox News the video was indeed made by the terror organization, but did not corroborate the assertions made on it.
Al-Ansi also said in the video that France belongs to the "party of Satan" and warned of more "tragedies and terror." He says Yemen's Al Qaeda branch "chose the target, laid out the plan and financed the operation," though he produced no evidence to support the claim. Orders he said, came from Al Qaeda's top leader Ayman al-Zawahri, Usama bin Laden's successor.
The attack by two brothers, Said and Cherif Kouachi, left 12 people dead, including eight staffers at the magazine, which had reportedly drawn the brothers' ire for repeatedly depicting the Muslim Prophet Muhammad. Muslim orthodoxy holds that any depiction of Muhammad is blasphemous.
An eyewitness heard the gunmen say in French, "We have avenged the Prophet Muhammad!" as they fled the newspaper office, while another witness claimed the gunmen addressed him before fleeing, saying, "Tell them this was Al Qaeda in Yemen."
In the video, al-Ansi describes the Kouachi brothers as "heroes" and congratulates them for "this revenge that has soothed our pain."
"Congratulations to you for these brave men who blew off the dust of disgrace and lit the torch of glory in the darkness of defeat and agony," an-Ansi added.
In the video, al-Ansi made no claim to the subsequent Paris attack on a kosher grocery store, during which a friend of Kouachis, Amedy Coulibaly, killed a French policewoman Thursday and four hostages on Friday.
Coulibaly appeared in a video message two days after his death, pledging allegiance to the Islamic State group, a fierce rival to Al Qaeda, saying he had worked in coordination with the Kouachis, the "brothers from our team."
The Coulibaly video raised questions over possible cooperation between the rival groups, competing for resources, recruits and leadership of Jihad. But al-Ansi called the rival groups' attacks a "coincidence."
Washington considers AQAP as one of Al Qaeda's most dangerous offshoots. Formed in 2009 as a merger between the terror group's Yemeni and Saudi branches, AQAP has been blamed for a string of unsuccessful bomb plots against American targets.
These include a foiled plan to down a Detroit-bound airliner in 2009 using a new type of explosive hidden in the bomber's underwear, and another attempt a year later to send mail bombs hidden in toner cartridges on planes bound to the U.S. from the Gulf.
The Charlie Hebdo attack is the Yemen-based branch's first successful strike outside its home territory -- and a triumph for its trademark double-strategy of waging jihad in Yemen to build its strength to strike abroad.
Over the weekend, a Yemeni intelligence official told Fox News that Said Kouachi had met with American cleric Anwar al-Awlaki in 2011 at an Al Qaeda camp east of Yemen's capital, Sana'a.
Significantly, after he met with al-Awlaki, the Yemeni government official said there is no record Said Kouachi ever returned to Yemen, and they had no inquiries from the French or American intelligence services about the brother's time in Yemen, suggesting the trip was successfully kept below the radar.
Less than an hour after the attack, a series of tweets appeared that were accompanied by images of three Al Qaeda members -- Ayman al Zawahiri, the leader of Al Qaeda in Pakistan, and two American members of AQAP who were both killed in U.S. drone strikes, Samir Khan and al-Awlaki -- raising more suspicions the Charlie Hebdo attack was an Al Qaeda plot.
Al Qaeda has in the past threatened Charlie Hebdo and cartoonists who depicted Islam's prophet. Editor Stephane Charbonnier, one of those killed last Wednesday, was on a hit list published in a 2013 edition of Inspire, the English-language publication issued by AQAP.
Fox News' Catherine Herridge and The Associated Press contributed to this report.