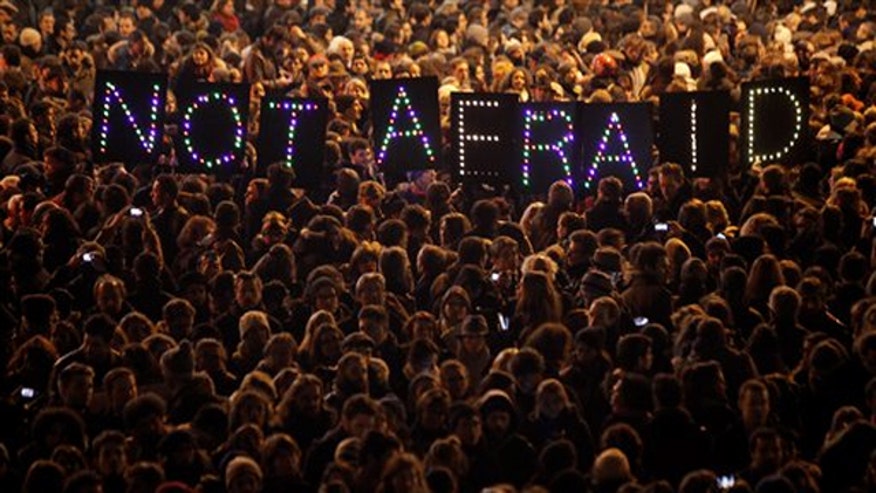 "I'd rather die standing than live on my knees," Stephane Charbonnier, editor and cartoonist at Charlie Hebdo, said in the years following a firebombing of the magazine's Paris offices.
On Wednesday, Charbonnier – known as "Charb" – was mowed down by Islamic terrorists during a staff meeting at the publication, dying, as he had predicted, in the pursuit of free speech.
The 47-year-old had spoken repeatedly about his determination to continue his work, regardless of whom it might offend, and had even been assigned a police bodyguard, who also died in the assault that left 12 dead.
In 2011, following the victory of an Islamist party in Tunisian elections, Charbonnier's magazine, perhaps France's best known and most provocative satirical publication, released a spoof issue "inviting" Muhammad to be its guest editor and putting his caricature on the cover.
In response, the magazine's Paris headquarters was firebombed. Its website was hacked. Riot police once guarded its offices. And Charbonnier lived under police protection and reportedly was placed on an Al Qaeda hitlist.
He told The Associated Press in 2012: "Muhammad isn't sacred to me. I don't blame Muslims for not laughing at our drawings. I live under French law. I don't live under Quranic law."
The weekly magazine, which has offended French men and women of all political persuasions and religious affiliations since the 1960s, continued its caustic commentary on a variety of targets, including Islam. In doing so, Charbonnier remained undeterred in what he viewed as his freedom to comment on current events -- even if it put his life at risk.
"I don't have kids, no wife, no car, no credit," he told Le Monde newspaper two years after the 2011 attack. "Maybe it's a little pompous to say, but I'd rather die standing than live on my knees."
"I live under French law. I don't live under Quranic law."

- Stephane Charbonnier, editor of Charlie Hebdo, speaking to The Associated Press in 2012
Charbonnier, who worked at the magazine for more than 20 years, was named editor in 2012. He previously served as director of the magazine since May 2009.
Among the other magazine staff who died were Bernard Maris, 68, who gained prominence as both an economist and a journalist; Jean Cabut, 76, widely known as Cabu, who established himself as one of France's best-known cartoonists over a career that spanned 60 years; Georges Wolinski, 80, who in 2005 was awarded the Legion of Honor, France's highest decoration; and cartoonist Bernard Verlhac, 57, who drew under the name Tignous, and was a member of a group of artists called Cartoonists for Peace.
The small-circulation weekly leans toward the left and takes pride in making acerbic commentary on world affairs through cartoons and spoof reports.
In 2012, it published more Muhammad drawings amid an uproar over an anti-Muslim film. The cartoons depicted Muhammad naked and in demeaning or pornographic poses. As passions raged, the French government defended free speech even as it rebuked Charlie Hebdo for fanning tensions.
"We treat the news like journalists. Some use cameras, some use computers. For us, it's a paper and pencil," the Muhammad cartoonist, who goes by the name Luz, told The Associated Press in 2012. "A pencil is not a weapon. It's just a means of expression."
Islam is not alone in being singled out by Charlie Hebdo's satire. Past covers include retired Pope Benedict XVI in amorous embrace with a Vatican guard; former French President Nicolas Sarkozy looking like a sick vampire; and an Orthodox Jew kissing a Nazi soldier.
The magazine occasionally publishes investigative journalism, taking aim at France's high and mighty.
But by far, it was its commentary on Islam for which Charlie Hebdo -- and its editor -- garnered the most attention -- and danger. In March 2013, Charbonnier was named to a hit list in an Al Qaeda magazine, along with other familiar jihadist targets such as Salman Rushdie and Dutch right-wing Geert Wilders.
Right up to Wednesday's attack, however, the magazine retained its caustic sense of humor. In a chilling prophecy, Charbonnier reportedly penned a cartoon in Charlie Hebdo's last issue that was striking in its tragic and eerie irony:
"No attacks in France yet; wait! There's until end of Jan to wish Happy New Year"
Charb dans le Charlie Hebdo de la semaine. pic.twitter.com/jb2rcR5W8H

— Alexandre Hervaud (@AlexHervaud) January 7, 2015
The Associated Press contributed to this report.