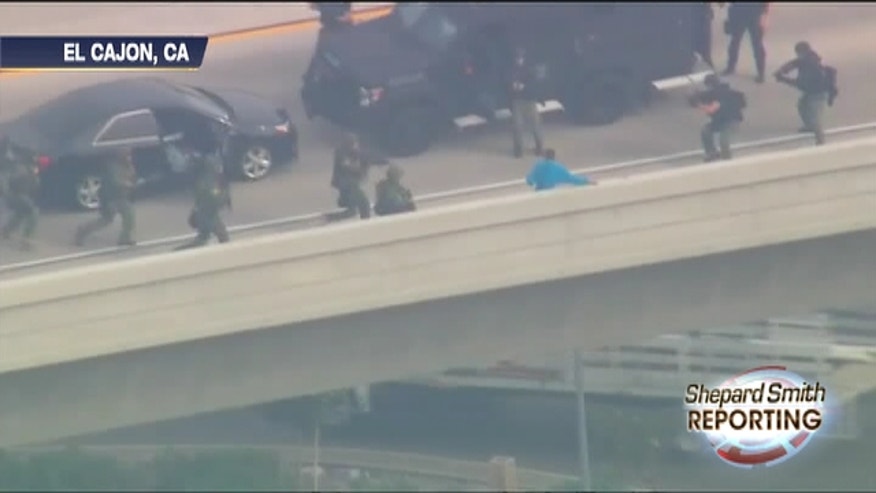 The saga of the Perez family of Montebello, California, came to an end Thursday at about 9:45 a.m. Pacific time, when father Daniel Perez's 2014 Toyota Camry was pulled over by California Highway Patrol officers on a San Diego County freeway near the town of Santee, with Daniel placed in police custody and all four children unharmed.
Daniel Perez, 43, his wife, Erica Perez, 39, and their four children disappeared from their home, about 15 miles east of downtown Los Angeles, and the family's 2010 Honda Accord was found about a half a mile from their home with a woman's body in the trunk.
An official at the Los Angeles County coroner's office told the Los Angeles Times on Thursday morning that his office couldn't say whether the body was Erica Perez because of a police request.
An amber alert that had been issued after Daniel Perez apparently drove off with his sons, ages, 6, 8, 9, and 11, was cancelled.
According to the Times, CHP received word from Montebello police that Perez was in the area, possibly at a hotel. A tracking device in the car led them to the Camry and police pursued the vehicle.
Video footage showed the kids running out of the car and toward police. Eventually, Perez emerging from his vehicle carrying the fourth child as well as a cell phone. The child was taken from Perez's arms.
The night before at a news conference, Pamela Valdez, the sister of Erica Perez, had made a plea to her brother-in-law after police found the body in the trunk of Honda.
"You're breaking our hearts. We don't know where the kids are, they need us," said an emotional Valdez. "Please bring the kids back, Danny. Please don't hurt them."
Neighbors were bewildered about the family's disappearance, describing how from the outside things seemed normal.
"They decorated for Christmas, Thanksgiving, Halloween," neighbor Jacinto Talamante told KTLA-TV. "They were out there decorating together."
People realized something was wrong when Daniel Perez missed work two days in a row, according to published reports.
Based on reporting by the Associated Press.
Like us on Facebook
Follow us on Twitter & Instagram