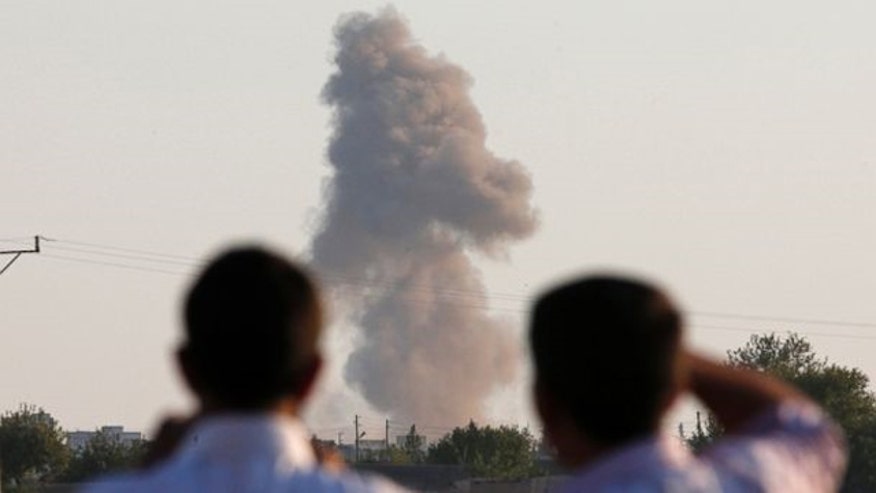 As the U.S. dropped military aid and supplies to Kurdish forces in Kobani Sunday amid growing concern over the potential impact of ISIS taking full control of the town, a leading foreign policy analyst is downplaying the possible ramifications for the wider conflict.
Kamran Bokhari, Middle Eastern & South Asian affairs adviser at the geopolitical intelligence firm Stratfor, told Fox News National Security Analyst KT McFarland that Kobani doesn't hold strategic value in the fight against the terrorists.
"The key reason why there is so much focus on Kobani is because it is so close to the Turkish border that the media is able to cover it," he said. "There are far more significant battles raging across the country that do not get to the press because the media just can't go there."
While Kobani is a Kurdish stronghold, there is other territory in eastern Syria, including the Hasakah province, that is of more concern to the Kurds.
"It's far more important and there are Kurdish strongholds to the west of Kobani … by no means is this game over," said Bokhari.
Recent U.S. coalition airstrikes have put ISIS on the defensive. Currently, the terror group is trying to maintain control over territory in Syria from Aleppo to the Syrian-Iraq border.
Foreign policy analysts, including Bokhari, believe it's too early to tell the long-term impacts of the air campaign.
"The United States and the coalition partners just got started; in fact, that coalition is still in the formative stage … I think it's way too early to say we are winning or losing, but at this point in time … IS is not losing just yet."
Bokhari, author of "Political Islam in the Age of Democratization," believes the fight in Kobani gives ISIS a lot of "PR value" with the world watching.
"They are big on psychological operation … they have invested a great deal of fighters, but in recent days the airstrikes have really taken out hundreds of experienced fighters … this battle is going to rage on, it's going to cost IS."
Chris Snyder is a producer for Fox News based in New York. Follow him on twitter: @ChrisSnyderFox.