On Oct. 9, a Mexico City parking valet named Luis Martín Rocha Pérez, 26, posted to his Facebook page a few images that people had a hard time believing.
In them a grown man – who turned out to be Rocha Pérez himself – appears to be holding a gun to the head of a toddler. The images quickly were redistributed by thousands of people across a number of social media platforms, often accompanied by comments like, "You are a horrible person and that baby should be taken from you."
Wind of the controversy apparently also reached Rocha Pérez's employer, Lord Valet Parking – maybe even the local police – and, over the weekend, he posted a video in Spanish to his Facebook account apologizing, sort of, and explaining the pictures.
"Good afternoon," he begins, looking directly into the camera. "The uploaded photos were my error, but they don't have any bearing on the truth. There was no bad intent on my part."
He adds that the child is his nephew who lives in the same apartment as Rocha Pérez, and that the gun is a toy.
"We took the pictures as a joke," he says, adding, "I want to say I'm sorry through the social media to the public and to the authorities."
He then assures people that he still has the toy gun if there's any need for corroboration.
Judging from the comments to the video post, his explanation has mostly been found to be a bit lacking. "Stupid idiot. Put the gun you-know-where and pull the trigger," captures the majority opinion.
Over the summer, according to the U.K.'s Daily Mail, Rocha Pérez used what appears to be the same toy gun in another series of uploaded pictures.
In those, the Facebook wag was pinning the arms of a woman face down on the floor behind her back while holding the gun to her head.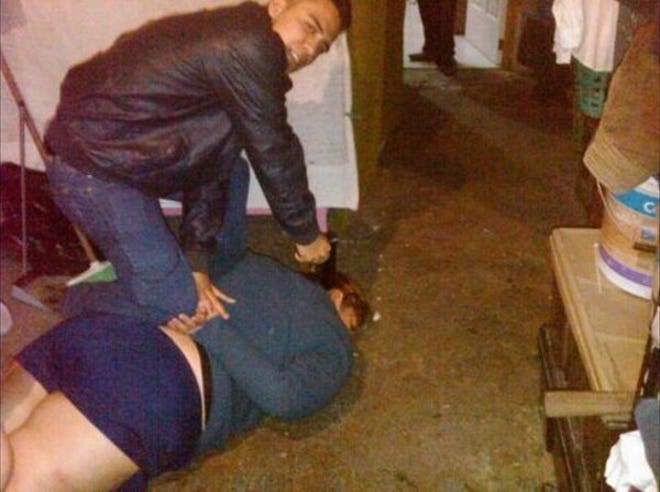 Follow us on twitter.com/foxnewslatino
Like us at facebook.com/foxnewslatino