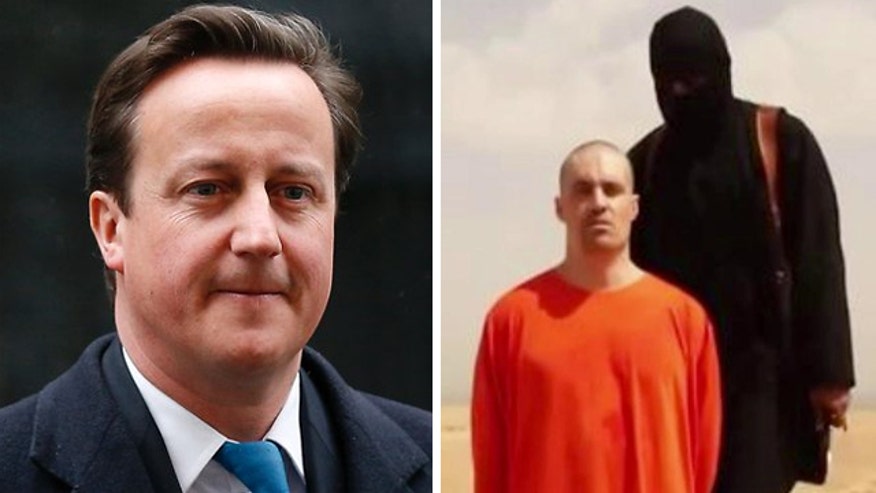 British Prime Minister David Cameron says his government is going to redouble its efforts to prevent its citizens from becoming foreign fighters in Iraq and Syria after ISIS released a video showing a man with an apparent British accent beheading an American journalist.
The announcement came as intelligence officials are racing to identify the man in the video, who according to one British newspaper, is the leader of a group of Britons-turned-jihadists that are holding foreigners hostage.
Cameron – who returned from vacation early to discuss the situation in Iraq with his advisors – said Wednesday that there are "far too many" Britons travelling to Iraq and Syria and his government would "redouble all our efforts" to keep them from going there.
Cameron said the man had not yet been identified, but "from what we have seen it looks increasingly likely that is a British citizen."
There is estimated to be up to 400 British fighters in the ranks of the Islamic State militant group – also known as ISIS – the BBC reports.
At least 69 people suspected of Syria-related jihadist activities have already been arrested in the United Kingdom.
In the video, the black-clad fighter who appears to kill journalist James Foley speaks with an English accent, underscoring the insurgents' increasing use of Western militants to mobilize recruits, terrify opponents and project the image of a global force.
The video identifies another man as American journalist Steven Sotloff, and warns that he, too, could be killed.
A former hostage who spoke to The Guardian newspaper identified Foley's executioner as a ringleader of three British jihadists believed to be the guards of foreign internationals being held in the Syrian city of Raqqa, an ISIS stronghold.
Sources told the Guardian that the man is said to have held discussions with the families of jailed foreign nationals over the internet. The former hostage said the trio of Britons is referred to as "the Beatles," because of their nationality, and the ringleader is a devout believer in radical Islamist teachings.
Professor Peter Neumann, director of the International Centre for the Study of Radicalization at King's College London, believes that an English-speaking militant was deliberately chosen by ISIS to rattle nerves in Western nations.
"This is significant because it signifies a turn towards threatening the west," he told The Guardian. "They are saying we're going to come after you if you bomb us."
The apparent Briton is the latest in a string of international jihadis — Australians, Chechens, Chinese and Indonesians — to appear in propaganda for the Islamic State group.
"They like to suggest they have a presence around the world much stronger than it is," Charlie Cooper, a researcher at the Quilliam Foundation, a British counter-extremism think tank, told The Associated Press. "It does suggest that people all over the world are going off to fight in the tens of thousands."
U.S. officials have confirmed the grisly video is authentic — an act of revenge for U.S. airstrikes in northern Iraq.
Linguists described the man's accent as "multicultural London English," spoken by many young, inner-city residents from a variety of ethnic backgrounds.
"He sounds to me like a native speaker ... or a non-native who has spent a lot of time in London," said Dominic Watt, a forensic linguist at the University of York. Jane Setter, a professor of phonetics at the University of Reading, said the man was likely educated in the U.K. or in a U.K.-based system.
Syria's civil war, in its fourth year, has attracted thousands of foreign fighters from around the world. Some of the several hundred people from Britain who have traveled to Syria, according to official estimates, may have crossed into Iraq as Islamic State militants advanced. France and Germany have estimated a combined 1,300 of their citizens have joined the fight.
Shiraz Maher, another expert at the International Center for the Study of Radicalization, said the video is evidence that British jihadis are "some of the most vicious and vociferous fighters" in Syria and Iraq.
"We have seen British fighters out there operating as suicide bombers; we have seen them operating as executioners," Maher told BBC radio.
Extremists have increasingly used their international components for propaganda purposes.
In June, the Islamic State released a video showing British and Australian militants exhorting compatriots to join them in violent jihad. Last month, an Al Qaeda-linked group in Syria released a video of an American carrying out a suicide attack.
An Islamic State fighter from Australia posted a picture on Twitter showing his 7-year-old son holding the severed head of a Syrian soldier — an image U.S. Secretary of State John Kerry called "one of the most disturbing, stomach-turning, grotesque photographs ever displayed."
One of the group's most prominent commanders, appearing frequently in online videos, is Omar al-Shishani, a red-bearded ethnic Chechen.
Nigel Inkster, a terrorism expert at the International Institute for Strategic Studies, said the videos reflect an increasingly sophisticated media strategy designed to energize recruits and give the West a message "of fear and a perception of inevitability."
He said showcasing large numbers of foreign — and particularly Western — fighters is intended to tell potential recruits that the Islamic State is "a successful movement, ... and if you want to be a jihadi you have to be part of it."
The Associated Press contributed to this report.