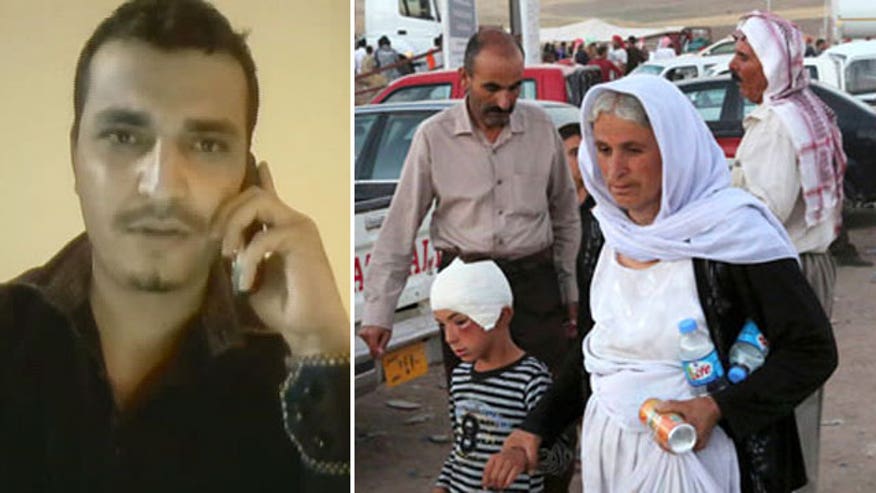 The U.S. is leading targeted airstrikes in Iraq against Islamic State in an effort to quash the terrorist group's assault on religious minorities, but the Yazidi community in America says the U.S. must do more than simply provide food and water to those forced from their homes.
Elias Kasem, a Phoenix-based Yazidi community leader who has family in Iraq, has been organizing protests across the U.S. calling for increased support for targeted minority groups.
Kasem told FoxNews.com he spoke with several relatives and other Yazidis in recent days who tell him they are in a "dire" situation with no access to shelter, food or water and fear constant attacks by terrorists.
[pullquote]
He added, though, "it does not matter how much food and water I provide if I do nothing about the terrorist that is holding a gun to your head."
This has fueled his push stateside to raise awareness for those suffering in Iraq. Yazidis so far have protested this week in Phoenix and are hoping to put a delegation together to go to the U.N. to share their concerns.
The U.N. has said it would provide increased support to the Yazidis and to 400,000 other Iraqis who have fled since June to the Kurdish region.
So far it's estimated a total of 1.5 million people have been displaced by the fighting.
"We don't believe the United Nations have done anything yet to save these people. We don't believe the U.S. has really done enough to save these people as well," said Kasem.
Yazidis in the U.S. are worried their relatives and loved ones in Iraq are facing "genocide."
"It is an imminent genocide if the international powers do not step in right now," said Kasem. "We each have one goal so that we can save as many people as we can and get them out of there because they are homeless living in their own homeland."
Chris Snyder is a producer for Fox News based in New York. Follow him on twitter: @ChrisSnyderFox.