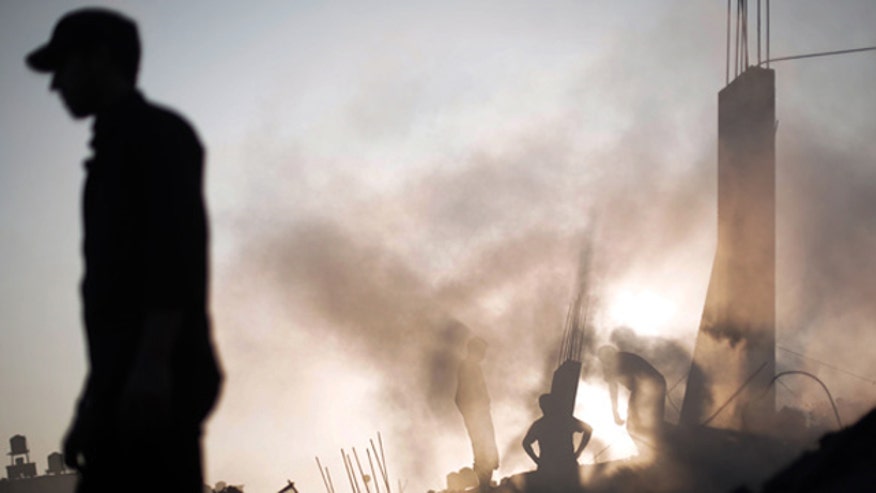 An Israeli official has warned of "gaps" that separates his side from coming to an agreement with their Palestinian counterparts on a long-term truce in the Gaza Strip as marathon talks were due to resume Tuesday in Cairo.
A temporary Israel-Hamas truce was holding for a second day Tuesday as the Israeli military said no incidents between the two sides were registered overnight -- neither Hamas rocket fire at Israel nor Israeli strikes in Gaza.
The latest 72-hour cease-fire took effect at midnight local time Monday. A similar truce collapsed on Friday when militants resumed rocket fire on Israel after the sides were unable to make any headway in the Egypt-hosted talks. Hamas is seeking an end to an Israeli-Egyptian border blockade of the Gaza Strip while Israel wants Hamas to disarm.
The Israeli delegation returned to the Egyptian capital on Tuesday after a trip back to Israel, and a senior Israeli official suggested that the first day of talks had not gone well.
"The gaps between the sides are big and there is no progress in the negotiations," he said.
Last week's talks failed in part because Israel rejected Hamas' demand for a complete end to the blockade of the Gaza Strip, enforced by Egypt and Israel. Israel says the closure is necessary to prevent arms smuggling, and officials do not want to make any concessions that would allow Hamas to declare victory.
Hamas officials have since signaled that they will have more modest goals in the current round of talks.
A member of the Palestinian delegation said that Egyptian officials told the delegation to expect "an extremely long negotiating session" on Tuesday -- an indication that the talks may be about to enter a sensitive phase.
Both the Israeli official and the Palestinian delegation member spoke on condition of anonymity because they were not authorized to discuss the talks with the media.
This round of Gaza fighting -- the third in six years -- escalated from the abduction and killing of three Israeli teens in the West Bank in June. Israel blamed the killings on Hamas and launched a massive arrest campaign, rounding up hundreds of its members in the West Bank.
Hamas and other militants then unleashed rocket fire from Gaza and Israel launched its air campaign against Gaza on July 8. Nine days later, Israel sent in ground troops to target rocket launchers and cross-border tunnels built by Hamas for attacks inside Israel.
The Associated Press contributed to this report.