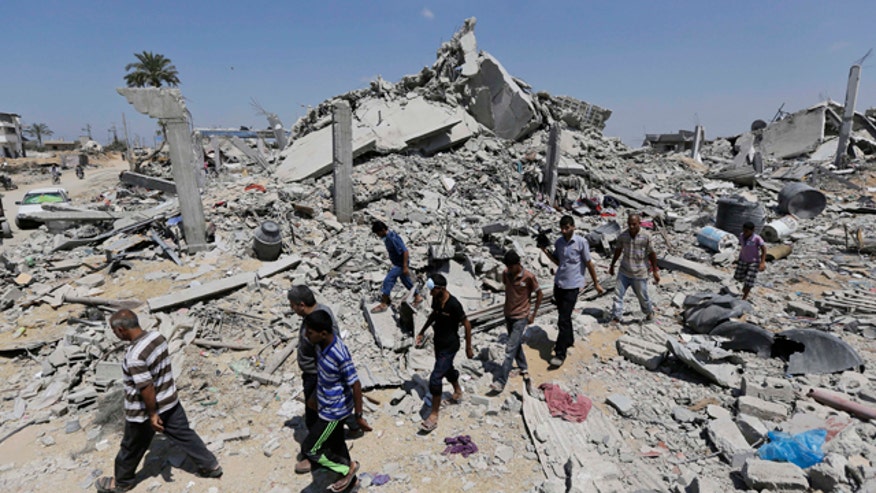 An Egyptian-brokered cease-fire halting the Gaza war held into Monday evening, allowing Palestinians to leave homes and shelters as negotiators resumed talks in Cairo.
The truce took effect just after midnight Monday (5 p.m. Eastern Time Sunday) and was preceded by heavy rocket fire toward Israel. The Iron Dome rocket defense system intercepted two rockets over Ashdod Sunday night.
In Cairo, the Egyptian Foreign Ministry said the 72-hour cease-fire would allow humanitarian aid into battered Gaza neighborhoods and the reopening of indirect talks on a more lasting and comprehensive deal.
On Monday morning, high school students in Gaza filed the streets as they headed off to pick up their graduation certificates after the Education Ministry said they'd be ready. People waited to buy fuel for generators as power and communication workers struggled to fix cables damaged in the fighting. Long lines formed at ATMs.
A four-member Israeli delegation arrived Monday in Cairo for talks, Egypt had hoped to use last week's three-day truce to mediate a long-term deal. But when it expired, militants resumed their rocket fire, sparking Israeli reprisals. The violence continued throughout the weekend, including a burst of fighting late Sunday ahead of the expected cease-fire.
Last week's talks failed in part because Israel rejected Hamas' demand for a complete end to the blockade of the Gaza Strip, enforced by Egypt and Israel. Israel says the closure is necessary to prevent arms smuggling, and officials do not want to make any concessions that would allow Hamas to declare victory.
Asked why Jerusalem believes Hamas accepted the cease-fire after rejecting an extension on Friday morning, an Israeli government official told the Jerusalem Post that Hamas was under a great strain that included not only military pressure from Israel but also pressure from many in the Arab world, as well as people in Gaza who want to see the crisis end.
Egypt's Foreign Ministry urged "both sides to exploit this truce to resume indirect negotiations immediately and work towards a comprehensive and lasting cease-fire agreement," the Post reported.
The blockade has greatly limited the movement of Palestinians in and out of the impoverished territory of 1.8 million people for jobs and schooling. It has also limited the flow of goods into Gaza and blocked virtually all exports. Unemployment there is more than 50 percent.
Bassam Salhi, a Palestinian delegation member, said he was optimistic ahead of Monday's talks.
"We hope to reach a deal within the 72 hours, based on ending the blockade and opening the crossings," Salhi said.
Israeli officials had walked away from negotiations over continued fire from Gaza. "Israel will not negotiate under fire," Prime Minister Benjamin Netanyahu said earlier Sunday, warning that his country's military campaign "will take time."
The current Gaza war escalated from the abduction and killing of three Israeli teens in the West Bank in June. Israel blamed the killings on Hamas and launched a massive arrest campaign, rounding up hundreds of its members in the West Bank. Hamas and other militants unleashed rocket fire from Gaza.
Meanwhile, the Israeli military said it killed a suspected Palestinian militant early Monday morning in the West Bank village of Qabalan, south of Nablus. Palestinian medical officials identified the dead man as Zakariah al-Aqrah, 21.
The military said he was killed after he opened fire on an Israeli force that had come to arrest him in connection with shootings targeting Israeli soldiers two weeks ago.
The month-long war pitting the Israeli military against rocket-firing Hamas militants has killed more than 1,900 Palestinians, according to Palestinian and U.N. officials, who say the majority were civilians. In Israel, officials say 67 people have been killed, all but three of them soldiers.
The Associated Press contributed to this report.