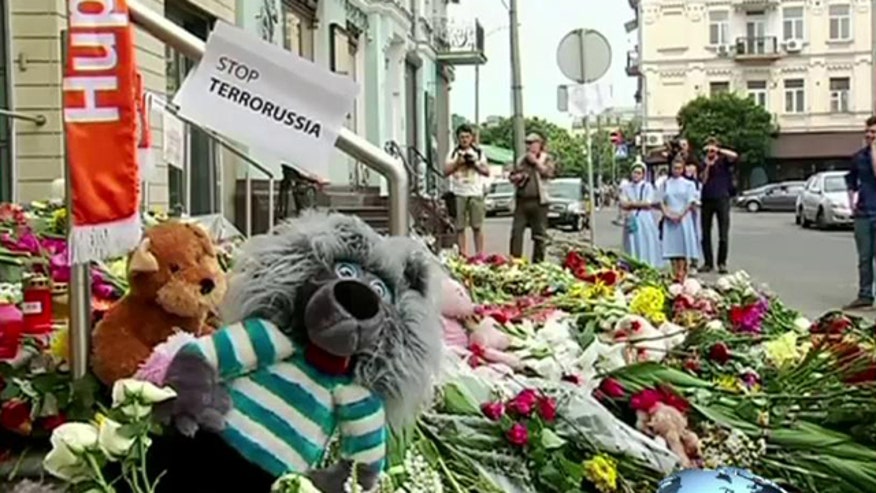 Emergency workers, police, and volunteers combing through fields strewn with plane parts, luggage, and charred souvenirs have found 181 bodies at the crash site of a Malaysian Airlines plane shot down over eastern Ukraine Thursday.
Workers at the scene Friday faced a grisly search for victims and wreckage of Malaysia Air Flight 17, blown up by a surface-to-air missile as it flew above eastern Ukraine, killing all 298 people aboard.
The Boeing 777 bound for Kuala Lumpur from Amsterdam was shot down Thursday afternoon at cruising altitude about 35 miles from the border, according to Anton Gerashenko, an adviser to Ukraine's Interior Minister.
Pro-Russian rebels and the Ukrainian government-- who have engaged in deadly battles in several cities of eastern Ukraine in recent months-- traded charges about who was responsible for the tragedy.
President Obama said Friday at least one American was among the passengers killed aboard the flight, and said the plane appears to have been downed by a missile launched from Ukraine by pro-Russian separatists.
Ukraine's government, the pro-Russia rebels who oppose it and Russia have all denied shooting down the passenger plane.
Emergency workers in contact with officials in Kiev say 181 bodies have been recovered from the crash site, of the 283 passengers and 15 crew members aboard the flight. Ukraine Foreign Ministry representative Andriy Sybiga said the bodies will be taken to Kharkiv, a government-controlled city 170 miles to the north, for identification.
The search area was spread out over fields between two villages in eastern Ukraine -- Rozsypne and Hrabove -- and fighting apparently still continued nearby. In the distance, the thud of Grad missile launchers being fired could be heard Friday morning.
In the sunflower fields around Rozsypne, 25 miles from the Russian border, lines of men disappeared into the thick, tall growth that was over their heads. One fainted after finding a body. Another body was covered in a coat.
In Hrabove, several miles away, huge numbers of simple sticks, some made from tree branches, were affixed with red or white rags to mark spots where body parts were found.
Among the debris were watches and smashed mobile phones, charred boarding passes and passports. An "I (heart) Amsterdam" T-shirt and a guidebook to Bali hinted at holiday plans.
Large chunks of the Boeing 777 that bore the airline's red, white and blue markings lay strewn over one field. The cockpit and one turbine lay a half-mile apart, and the tail landed six miles away. One rebel militiaman in Rozsypne told The Associated Press that the plane's fuselage showed signs of being struck by a projectile.
Malaysia Airlines said the passengers included 189 Dutch, 29 Malaysians, 27 Australians, 12 Indonesians, nine Britons, four Germans, four Belgians, three Filipinos and one person each from Canada and New Zealand. President Obama confirmed that one American-- Quinn Lucas Schansman, a U.S.-Dutch citizen-- was also on the doomed flight.
Obama called for an immediate ceasefire in the region among Ukraine, Russia and Russian-backed separatists in order to conduct an investigation into the crash site in eastern Ukraine.

"We know they have received steady support from Russia, which includes heavy weapons and training ... and includes anti-aircraft weapons," Obama said.
He noted, though, it wasn't the first time the separatists had shot down planes in the region, adding that a "steady flow of support from Russia" had included heavy weapons and anti-aircraft weapons.
Russian President Vladimir Putin also called for a cease-fire Friday in eastern Ukraine and urged the two sides to hold peace talks as soon as possible. A day earlier, Putin had blamed Ukraine for the crash, saying the government in Kiev was responsible for the unrest in its Russian-speaking eastern regions. But he did not accuse Ukraine of shooting the plane down and did not address the key question of whether Russia gave the rebels such a powerful missile.
The whereabouts of the plane's flight data recorder and cockpit voice recorder remained unknown Friday. Separatist rebels who control the crash site issued conflicting reports Friday about whether they had found the plane's black boxes or not.
"No black boxes have been found ... we hope that experts will track them down and create a picture of what has happened," said Donetsk separatist leader Aleksandr Borodai.
Yet earlier Friday, an aide to the military leader of Borodai's group said authorities had recovered eight out of 12 recording devices. Since planes usually have two black boxes -- one for recording flight data and the other for recording cockpit voices -- it was not clear what the number 12 referred to.
Russia's foreign minister said his country had no intention of acquiring them and that they should be given to international aviation organizations. Experts in air accident investigations said the boxes' contents could be key to establishing what happened to the Boeing 777 in the moments before it crashed. The thud of a missile hit or the acoustic shock wave emitted by an explosion could have been picked up by the cockpit recorder, they said.
Ukraine has called for an international probe to determine who attacked the plane and the U.S. has offered to help. But access to the sprawling crash site remained difficult and dangerous. The road from Donetsk, the largest city in the region, to the crash site was marked by five rebel checkpoints Friday, with document checks at each.
Borodai said 17 representatives from the Organization for Security and Cooperation and four Ukrainian experts had traveled into rebel-controlled areas to begin an investigation into the attack.
FBI and U.S. National Transportation Safety Board personnel are preparing to travel to Ukraine to assist in the investigation of the crash, an official told Reuters Friday.
Ukraine's state aviation service closed the airspace Friday over two border regions gripped by separatist fighting -- Donetsk and Luhansk -- and Russian airlines suspended all flights over Ukraine.
Aviation authorities in several countries, including the FAA in the United States, had issued previous warnings not to fly over parts of Ukraine after Russia annexed the Crimean Peninsula in March. Within hours of the crash Thursday, several airlines announced they were avoiding parts of Ukrainian airspace.
The Associated Press contributed to this report.