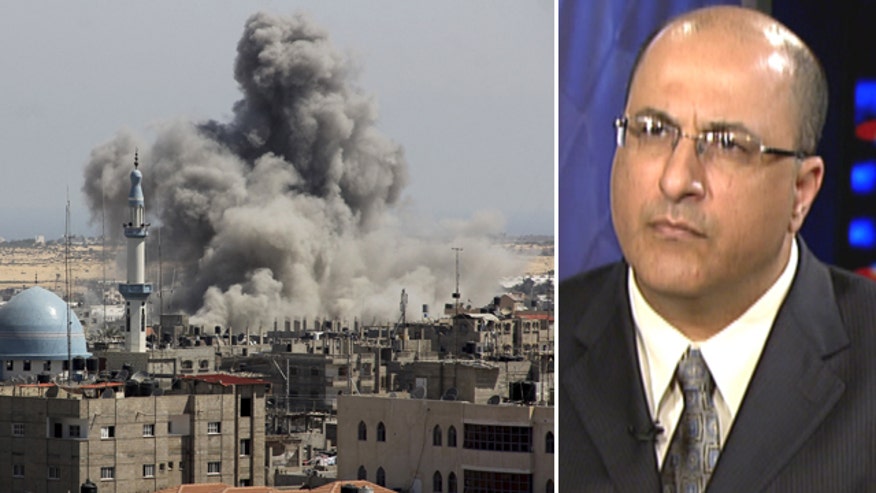 The renewed violence in the Gaza Strip following the recent kidnapping and murders of three Israeli teenagers and the suspected revenge killing of a Palestinian teen has led to Israel's military increasing an offensive against Hamas, with strikes on more than 200 sites linked to the Islamist terrorist group. The country is on alert as militants continue to fire rocket salvos into Israeli territory.
Ambassador Ido Aharoni spoke to Fox News National Security Analyst KT McFarland about Israel's strategy. Aharoni is the Consul General of Israel in New York.
"Hamas' decision to escalate the situation puts us in a very difficult and unpleasant position," said Aharoni. "We have to respond in a swift and comprehensive fashion because we are looking at a century-old Arab onslaught on Jewish national sovereignty in the land of Israel – that didn't start yesterday."
Israel relies on its "Iron Dome" air defense system for protection against Hamas rockets. The system intercepted at least 29 rockets since Tuesday, according to Aharoni.
Some critics, however, say the "Iron Dome" can't totally be relied upon for protection.
Aharoni points out "no system is perfect and no military is free of mistakes; things happen but [overall] … we [Israeli government] are very happy with the performance of the 'Iron Dome' system."
[pullquote]
He says Israel's Cabinet is currently debating whether to send ground troops into the Gaza Strip. "One thing for sure we understand: We are in it for the long run, the goal of Operation Protective Edge, named for the offensive [against Hamas], is to bring about stability, calm and quiet to Israel's southern and central region."
Aharoni believes Hamas was able to gain access to "no less than 12,000 rockets in the Gaza Strip alone."
These rockets can have a range between 50 to 100 miles, and can reach nearly half of the country's population.
"The overall approach in [the Gaza Strip] is surgical and we are trying to minimize collateral damage, but unfortunately this a war situation – we are facing an uncompromising brutal enemy and sometimes innocent people suffer," said Aharoni.
Chris Snyder is a producer for Fox News based in New York. Follow him on twitter: @ChrisSnyderFox.