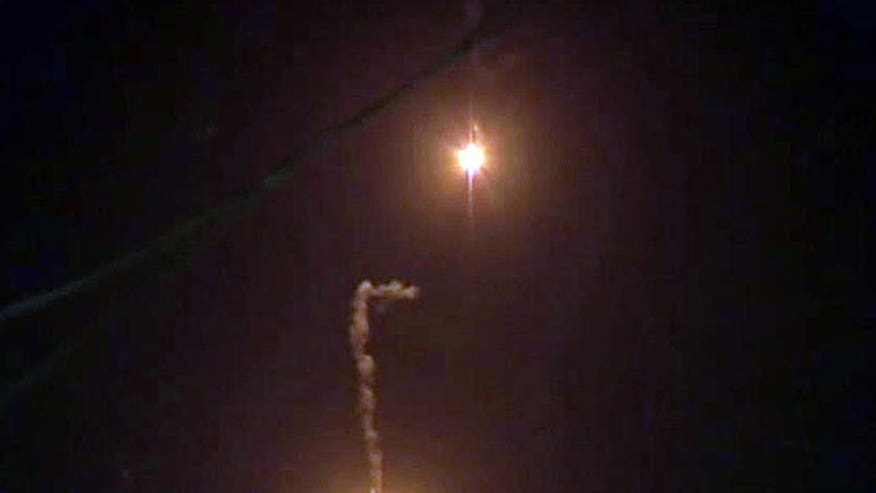 Israel has begun sending troop reinforcements to its border with the Gaza Strip amid intensifying rocket barrages, defense officials said Thursday.
The movement of tanks and artillery forces came after another night of heavy rocket fire, including barrages that struck two homes in the southern border town of Sderot. Israel's last major operation in Gaza, a territory controlled by the Hamas militant group, took place in late 2012.
The rocket strikes sparked Israeli reprisals and added to mounting tensions surrounding the suspected revenge killing of an Arab teen in Jerusalem.
More than a dozen rockets struck Israel on Thursday, including the attacks on Sderot. The strikes knocked out electricity in part of the town but caused no injuries. Israel said it responded with overnight airstrikes on 15 Hamas targets.
On Thursday, buses carrying Israeli troops could be seen heading to the Gaza border area, where soldiers milled about organizing their equipment.
A senior Israeli military official described the troop movements as "defensive."
"If Hamas keeps things quiet, we will keep things quiet," he said. He and other officials spoke on condition of anonymity under military guidelines.
The defense officials spoke on condition of anonymity because they were not authorized to discuss the matter with the media.
In Gaza, two senior Hamas officials said the group has "no interest" in any kind of escalation and hoped the cease-fire that ended the 2012 fighting could be restored. But they warned that rocket fire would continue until Israel halts its attacks on Gaza.
The officials, speaking on condition of anonymity because they were discussing ongoing diplomatic efforts, said they had sent messages to Israel through outside mediators but had been rebuffed.
"Israel has been attacking Gaza since the kidnapping of the teens," one official said. "Once Israel stops attacking Gaza, we are willing to immediately preserve the truce."
Meanwhile, police are investigating the disappearance of Mohammed Abu Khdeir, whose family says he was abducted Wednesday shortly before a charred body was found in a Jerusalem forest. The family accused extremist Jews of killing him in revenge for the deaths of three Israeli teens, who disappeared before their bodies were found in a field in the West Bank.
The suspected revenge killing ignited clashes in east Jerusalem between rock-throwing Palestinians and Israeli forces, who responded with stun grenades and rubber-coated bullets. The rioters set tires ablaze and torched three light-rail train shelters.
East Jerusalem was quiet Thursday morning, but police said units were still patrolling the area. An Associated Press cameraman filmed Hebrew graffiti reading "death to Israel" and "death to Jews." Police spokeswoman Luba Samri said the graffiti was likely sprayed since Abu Khdeir's disappearance and that police were looking into it.
Police were still trying to identify the body, but Abu Khdeir's family set up a mourning tent near a mosque in east Jerusalem. Some 100 people crowded into the tent on Thursday to pay their condolences.
"The investigation is continuing in order to determine whether this was criminal or nationalistic," police spokesman Micky Rosenfeld said.
The incident elicited international condemnation and prompted calls for calm from Israeli leaders. Prime Minister Benjamin Netanyahu demanded a swift probe of the "reprehensible murder." Palestinian President Mahmoud Abbas said it was clear extremist Jewish settlers were responsible for the death and called on Israel to bring the killers to justice.
Israel says Hamas, which rules Gaza, abducted and killed the Israeli teens, which led to the largest ground operation in the West Bank in nearly a decade, with Israel arresting hundreds of Hamas operatives as part of a broad manhunt. The discovery of the bodies following days of intense media coverage led to an outpouring of national grief. As the funerals were being held on Tuesday, hundreds of right-wing Israeli youths marched through Jerusalem, screaming for revenge.
The Associated Press contributed to this report.