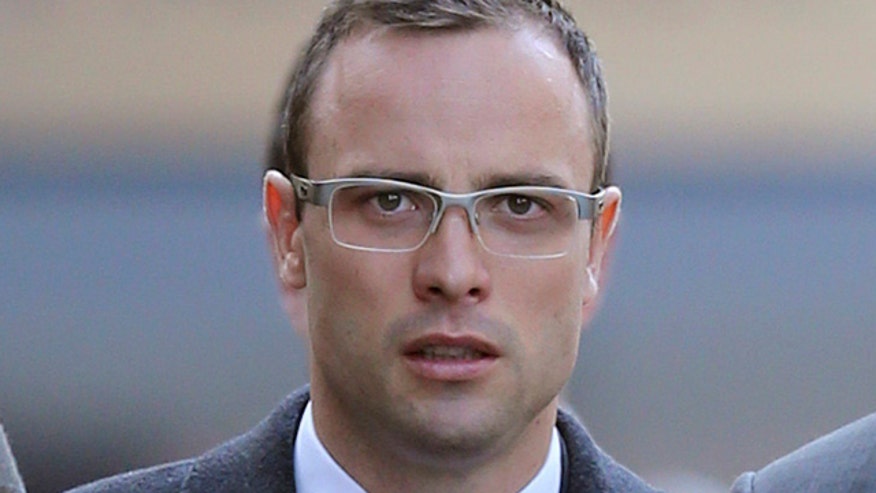 PRETORIA, South Africa – Oscar Pistorius detailed Tuesday what he said were the terror-filled moments before he shot Reeva Steenkamp to death, delivering court testimony at his murder trial that included him removing his prosthetic legs to illustrate the events that led to the fatal shooting.
Pistorius broke down in sobs and howls while testifying, forcing the judge hearing the case against the double-amputee runner to call an early adjournment on Tuesday.
Pistorius began crying while testifying about how he broke down a bathroom door after shooting four times through it, and found Steenkamp inside. He wailed loudly, his head in his hands and went out a side door of the courtroom.
The actual bullet-riddled bathroom door was set up in the courtroom to show how the shooting took place.
Pistorius said that he heard a window open in his bathroom in the early hours of Feb. 14, 2013, causing him to believe intruders had entered his house and to race to get his gun to defend himself and his girlfriend, who he claims he thought was still in bed.
"My lady, that's the moment that everything changed," Pistorius told the judge, according to The New York Times. "I thought that a burglar had entered my home. Initially I froze. I didn't know what to do. The first thing that ran through my mind is that I needed to protect myself," he said, "that I needed to protect Reeva and I."
In Pistorius' narrative, he grabbed his gun from under his bed and headed toward the bathroom screaming, walking on his stumps because he removed his prosthetic legs before he went to bed, The New York Times reported.
"It was at this point I was overcome with fear," he said.
Pistorius told the judge he was worried an intruder could have lunged at him at any moment, as he was not wearing his prosthetics, the Times reported.
While Pistorius claims his fatal shooting of his girlfriend through the bathroom door was a tragic accident caused, in part, by his fear of violent crime, prosecutors maintain he killed the model intentionally and his story of a mistaken shooting is an intricate lie.
Before Pistorius' testimony was interrupted by a lunch adjournment, he had left court to change out of his suit and returned wearing a white long-sleeve T-shirt and shorts, showing his prosthetic legs.
Pistorius claims he was not wearing his prosthetics -- and therefore felt more vulnerable -- when he shot through the door and killed Steenkamp.
In the courtroom, Pistorius was asked by defense lawyer Barry Roux to stand by the bullet-marked door, which has been in the courtroom as an exhibit for much of the trial, while wearing his prosthetics. Dramatically, Pistorius then sat on a bench and took off his prosthetics and again approached the wooden door. It was to show how tall he stood next to it while standing only on his stumps.
Pistorius is into his second day of testimony, and was giving an account of what he says are the events in the moments leading up to the shooting that put him on trial for murder. Pistorius was charged with premeditated murder in Steenkamp's death and faces a life sentence with a minimum of 25 years before parole if convicted on that charge.
He took the stand Monday and apologized to Steenkamp's family, describing himself as traumatized and now on antidepressant medication, and sometimes waking from nightmares to the "smell of blood."
Pistorius' voice quavered so much and was so low at the start of his testimony that the judge asked him to speak up.
"There hasn't been a moment since this tragedy happened that I haven't thought about your family," the star athlete said as Steenkamp's mother, June, looked straight at him in the courtroom, stone-faced. "I wake up every morning and you're the first people I think of, the first people I pray for ... I was simply trying to protect Reeva. I can promise that when she went to bed that night she felt loved."
Pistorius said he has been taking medication since the week after he killed Steenkamp and has trouble sleeping. He described one night when he went to hide in a closet after waking up in "a panic."
"I climbed into a cupboard and I phoned my sister to come and sit by me, which she did for a while," Pistorius said.
Pistorius described Monday how Steenkamp was "a blessing" in his life. Yet in cellphone messages revealed by the prosecution, Steenkamp had once said that she was afraid of Pistorius.
The Associated Press contributed to this report.