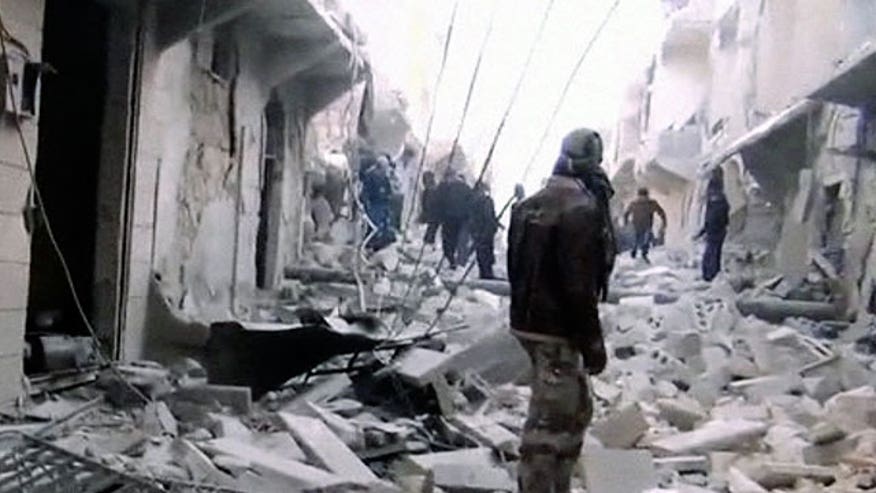 Rebels in Syria are trying to restructure their fight against President Bashar al-Assad in the hopes that the U.S. and its allies will commit more resources to their effort, according a Middle East expert. This comes after diplomatic efforts to end the war failed to take off.
Fox News' Jonathan Hunt spoke to Michael O'Hanlon about the situation in Syria. O'Hanlon is the director of research and a senior fellow for foreign policy at the Brookings Institution.
"President Assad has regained some momentum; he is doing much better than he was a year and half ago," O'Hanlon said. "It makes it hard to see where this goes next."
O'Hanlon says Assad feels like he has the upper hand in part due to Russia's support of his regime and continuing assistance in fighting the rebels.
"Russians have no interest in seeing the insurgents win … Russians think they have been doing better military analysis on this then we [U.S.] has," O'Hanlon said. "They feel that Assad is perhaps not very good … but less unpalatable than the Al Qaeda affiliates in the insurgency."
[pullquote]
O'Hanlon contends recent peace talks in Geneva between both sides were bound to fail. O'Hanlon says the U.S. must now strengthen the moderate elements of the insurgency.
Experts have said the failure of outright success in previous military operations in the Middle East has made it hard for the U.S. to further commit.
"President Obama did make a mistake a couple years ago in turning down the advice of his top national security team … to arm Syria's opposition," O'Hanlon said. "But it's never too late … it's going to be harder now and we simply cannot tolerate this stalemate."
Watch the full interview above.
Chris Snyder is a producer for Fox News based in New York. Follow him on twitter: @ChrisSnyderFox.