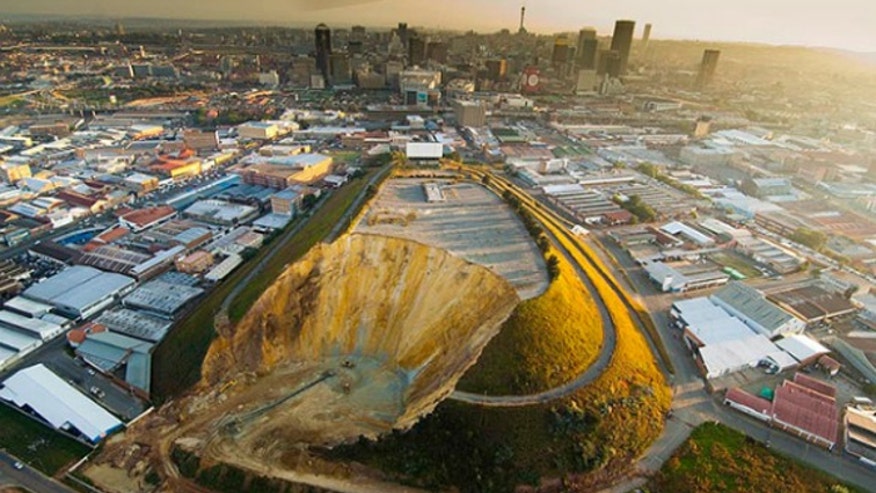 JOHANNESBURG, South Africa – A new gold rush is hitting Johannesburg, literally flattening the South African city whose Zulu name "Egoli" means City of Gold.
Hundreds of massive dumps of "tailings," the waste product left from more than a century of gold mining, dot the area in and around South Africa's largest city. Experts believe they have long posed a serious health and environmental risk to the estimated 1.5 million people who live near them. But the dumps are yielding a new round of precious metal thanks to new technology, and, this time, companies sifting through the giant dumps are carting away the waste and transforming the city's skyline.
"The liberated land is currently being rehabilitated ... for future housing, recreation, commercial and light industrial redevelopment," said James Duncan, spokesman for DRD Gold, which re-mined Johannesburg gold dumps for 33,600 ounces of gold, worth nearly $40 million, in the last quarter alone.
Six years ago, DRD ceased most of its traditional gold mining and began focusing on the dumps. While miners historically could only gather gold in chunks, new technology allows the recovery of up to 40 percent of the gold left in particle form in the dumps.
"If there's gold in them thar hills, we're going to find it."

- James Duncan, DRD Gold
One gold mining dump towers over the FNB Stadium, where the 2010 FIFA Soccer World Cup Final was staged, and where the recent memorial service for Nelson Mandela was held.
DRD has already removed the massive Top Star mine waste dump, an enormous mound just south of the city center which once featured a drive-in theater atop it. Duncan said the new development that will take shape where the Top Star site was will serve as a "lung in the city," where reclaimed real estate will boost the local economy and Johannesburg's tax coffers.
The city and national Department of Mineral Resources are committed to seeing the process through, especially given the massive profits at stake, said Duncan. He said mining can't begin until a company's plan for mitigating the environmental issues is approved.
"No approved program, no license, no mining," Duncan said. "Operators like us are not released from rehab obligations until in possession of a closure certificate is issued by the department. The department monitors compliance with the program from start to finish."
There is no shortage of gold mining dumps in Johannesburg, and the man-made mounds historically have separated the city's neighborhoods and classes.
While gold mining has historically run afoul of environmental groups, the effort to truck waste out of South Africa's largest city and to remote landfills is being applauded by most conservationists. They have long complained of the hazards of dust and runoff from the dumps.
According to a 2012 Voice of America report, radioactivity near a dump in Mogale City, just outside Johannesburg, is 15 times higher than normal. The radiation comes from uranium traces in the mined rock, which ultimately works its way into the ground water.
"It is not safe for the children to play inside because the soil is not suitable for the people," area resident Jeffrey Ramoruti told the U.S. government outlet.
Ignorant of the dangers, children often play in the dirt around the dumps, where they sometimes become covered with orange dust, Ramoruti said. Some pregnant women reportedly eat the toxic soil, out of a tragic belief that it can relieve stomach pains.
Still, some protesters say that by removing the dumps left by generations of gold miners, companies are destroying the city's heritage.
DRD aims to remove and treat more than 20 million tons of tailings from the hundreds of dumps around Johannesburg every year, the equivalent of 12 Olympic-sized swimming pools worth of material every hour of every day.
"If there's gold in them thar hills, we're going to find it," Duncan quipped.
Paul Tilsley is a freelance journalist based in Johannesburg. Follow him at @PaulTilsley.