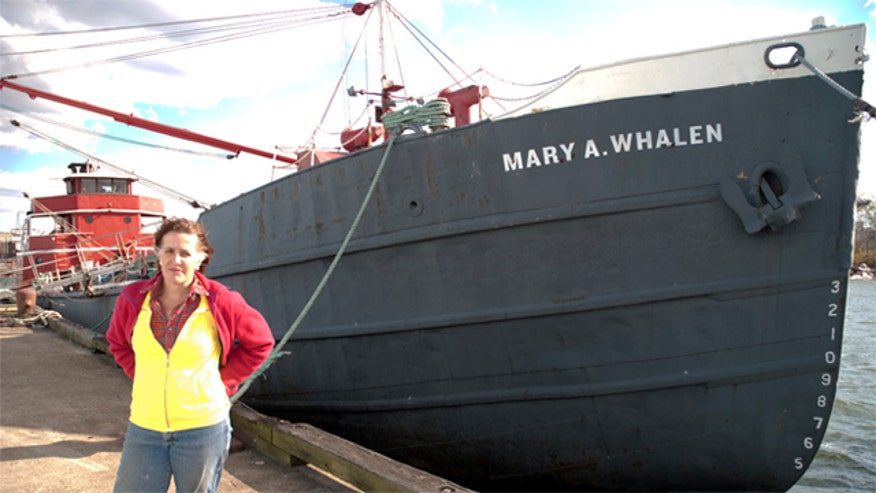 The tanker Mary A. Whalen once triumphantly carried oil through America's ports.
And while the oil tanker – built by a New York City company in 1938 -- is thought to be the last of its kind in the U.S., few have ever heard of the 613-ton historical ship.
That is, of course, before she stood up to Superstorm Sandy -- becoming a beacon of hope for a devastated community.
For years the ship has been tied to the docks off Brooklyn's once-forgotten Red Hook neighborhood. No engine, no purpose.
Doomed to become scrap metal, Carolina Salguero, 52, bought the ship in 2006 for $16,500 for her non-profit PortSide New York, and has been living onboard for the past eight years. Salguero struggles to afford the $5,000 a month it costs to keep the ship at the harbor, but she envisions a future where the Whalen becomes a cultural center and a floating educational museum.
"It's pretty rough, there is no central heat, there is no flushed toilet, there's a portaSan and there's no shower," said Salguero, a 52-year-old photojournalist and Yale University grad.
Salguero is betting that preserving the Whalen's history will be key to transforming Red Hook's waterfront economy and she wasn't going to let Superstorm Sandy get in the way.
Determined to secure the oil tanker, Salguero enlisted her colleague Peter Rothenger to ride out the storm onboard the 75-year-old tanker. The ship was tied on both sides of two piers.
From the deck and galley of the engineless tanker, the two-person crew wore life vests at all times, crawled on the deck of the ship, watched transformers blow up in Manhattan and shipping containers float dangerously close over the next few days.
"The fear was that the boat was going to float on top of the pier and possibly top over," said Rothenberg, a curator and historical researcher for PortSide New York. "It was scary at times. We'd go back inside and rest and then go back out again every half hour or so to check on and make sure we were secure."
But what began as a mission to save history, quickly became a recovery effort.
Just a few days after the storm, Salguero used the ship's six computers, routers, desks and other equipment to start one of Red Hook's first command aid centers inside of donated space at an art gallery and office of Realty Collective.
"We provided electricity, recharging computers to access FEMA, coordinated the electrician's work, set up free legal clinics, set up a few community meetings, made the space available to other things -- it was also kind of a safe place," Salguero said.
Red Hook resident Tina Dituri remembers the devastation after the storm.
"Everyone was in shock. No one knew where to go," Dituri told Fox News.
Until word got out about the art gallery space, aka "Red Hook's 351."
"The information came daily. Many times a day. Information about where services were, where you could get supplies, which contractors, what was going on with Con Edison. It's really mindboggling. It really became the hub of information for us," she said.
As for the Mary Whalen, Vituri added, "I'm one of her greatest fans now."
The aid center stayed open for a month. But PortSide New York continues to send out information emails and host Sandy Survivor gatherings. The White House and New York state legislators have honored PortSide New York for its recovery work and the organization is determined to spread word about the tanker.
All thanks to a forgotten ship, and her determined leader.
"The Mary Whalen lives on," said Salguero. "She survived."
Bryan Llenas currently serves as a New York-based correspondent for Fox News Channel (FNC). Click here for more information on Bryan Llenas. Follow him on Twitter @BryanLlenas.