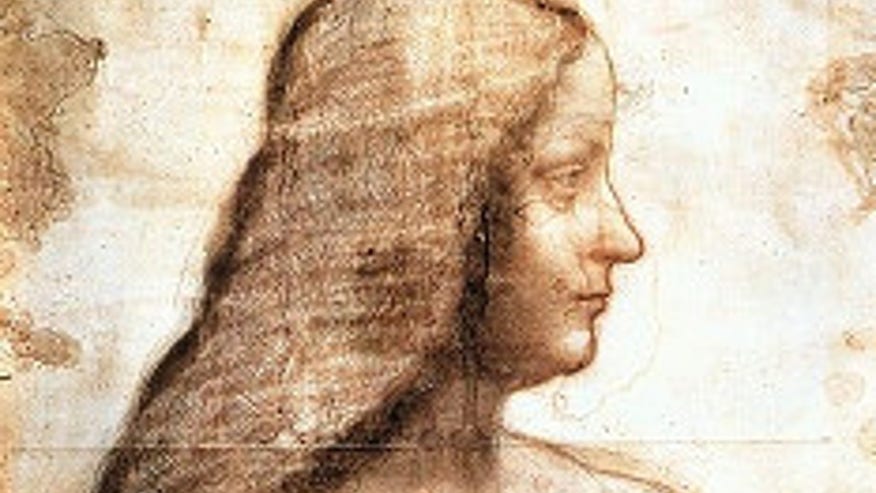 The discovery in a Swiss bank vault of a painting that could be a lost work of Leonardo Da Vinci has art historians buzzing.
The portrait of Isabella d'Este, a Renaissance noblewoman, was found in a private collection of 400 works owned by an Italian family and kept in the bank, according to a report by the Daily Telegraph. The family has asked not to be identified.
The painting appears to be a completed version of a Da Vinci pencil sketch, which art historians believe he drew in Mantua in Northern Italy in 1499. The sketch now hangs in the Louvre Museum in Paris.
For the last 500 years, art buffs have debated whether Da Vinci had the time or inclination to finish the painting the sketch inspired.
The aristocrat d'Este apparently wrote to Da Vinci after seeing his drawing of her, asking him to produce a painting. Art historians thought he might not have had time to get to the request because he was working on one of his largest works--"The Battle of Anghiari", on the walls of Florence's town hall-- and then the famous "Mona Lisa" around that time, in 1503.
But the recent treasure may reveal that Da Vinci found the time, perhaps after he met d'Este—one of the most influential female figures of the time-- in Rome in 1514.
University of California, Los Angeles art history professor and Da Vinci expert Carlo Pedretti says scientific tests suggest the oil painting is by the master.
"There are no doubts that the portrait is the work of Leonardo," Professor Pedretti told Corriere della Sera newspaper. "I can immediately recognize Da Vinci's handiwork, particularly in the woman's face."
Tests on the painting show that the pigment and primer in the portrait were the same as those Da Vinci used. Further tests offer evidence that the work was painted between 1460 and 1650.
The masterpiece measures 24 inches by 18 inches. It's noticeably similar to the sketch at the Louvre, since the subject's posture, dress, and hairstyle are nearly identical. Fans of the "Mona Lisa" may also recognize the same enigmatic smile.
Oxford professor and Da Vinci expert Martin Kemp says, if authenticated, the mystery painting would be worth "tens of millions of pounds" (or dollars) because only 15 to 20 genuine Da Vinci works exist.
But he raised doubts about whether the portrait was really the work of Da Vinci. The famous Renaissance artist gave away his original sketch to d'Este, so he would not necessarily have been able to refer to it later to paint a complete oil version.
Art historians say further analysis of the portrait is necessary to determine the artist. It's possible the painting was produced by one of the many painters in northern Italy who copied Leonardo's works. The find in Switzerland is painted on canvas, but Da Vinci preferred wooden boards.
"Canvas was not used by Leonardo or anyone in his production line," Prof Kemp told the Telegraph. "Although with Leonardo, the one thing I have learned is never to be surprised."