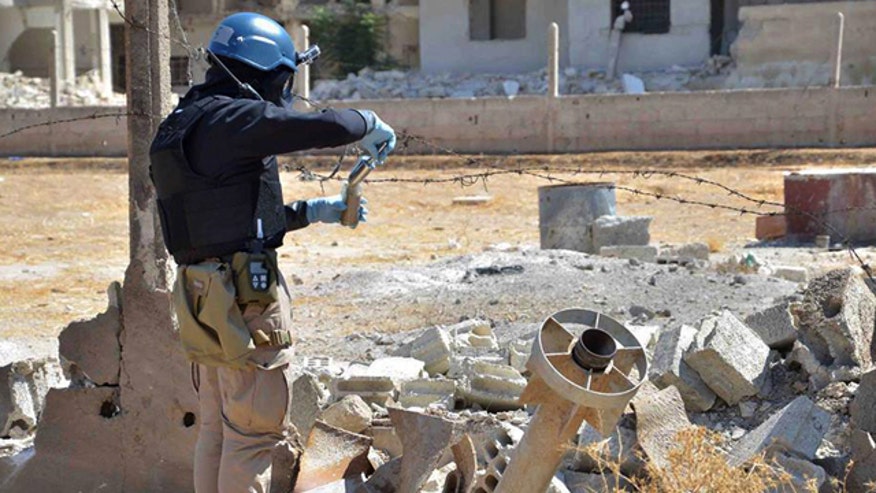 As the likelihood of a military strike on Syria increases in response to last week's alleged chemical weapons attack, a former USS Cole commander says the U.S. should not get involved.
Kirk Lippold was the commanding officer of the USS Cole when it came under attack by Al Qaeda in the port of Aden, Yemen in 2001. He spoke to Defcon 3's KT McFarland on Foxnews.com LIVE.
"I think the first option we need to look at, KT, is to not get engaged in this conflict," Commander Lippold explained. "While chemical weapons use is a moral outrage, that doesn't define that our national security is in fact threatened to the point that we should take military action and get involved."
The retired Navy commander said he is concerned that the White House's objective isn't clear. "We haven't defined what the objectives are going to be in this conflict," said Lippold.
Instead of moving ahead with attacks against the embattled Assad regime in Syria, Lippold says the U.S. military needs to wait.
"We clearly have not been presented with the proof as the American people that the Assad regime has in fact launched those weapons," said Lippold. "We need to see what the proof is so that we are not having a repeat like Iraq."
Questions remain whether the U.S. has the legal backing to conduct these air attacks. "We have no standing under international law to conduct these strikes right now," said Lippold.
If the United States went ahead with a military campaign against Syria, the former commander believes that "the key you want to do if you want to punish the Assad regime is not to remove them from power, but in fact take out some of their enablers in their country that allow them to conduct these attacks."
Watch the full interview with Commander Kirk S Lippold above and for more on this topic watch Foxnews.com LIVE weekdays at 12 p.m. ET
Chris Snyder is a producer for Fox News based in New York. Follow him on twitter: @ChrisSnyderFox.