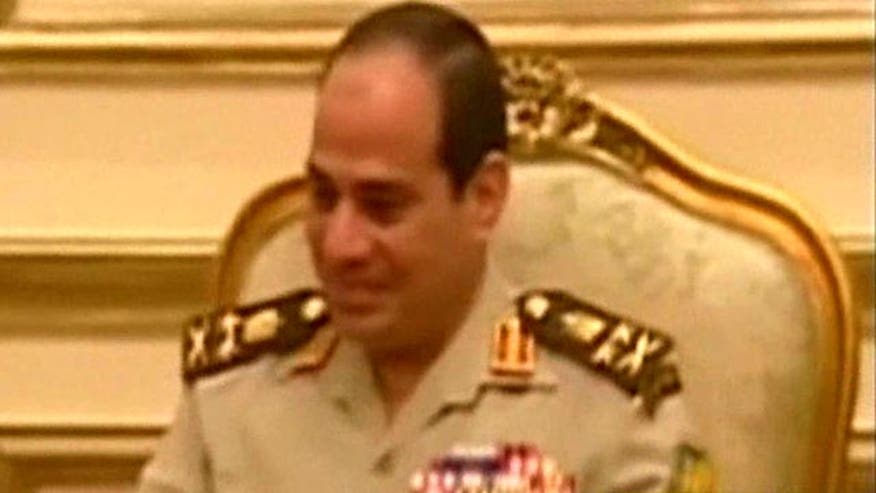 Violent and bloody protests continued to rage throughout Egypt Friday, as Muslim Brotherhood backers clashed with fellow Muslims, security forces and Christians in what was designated a "Day of Rage."
As night fell, rioters ignored a curfew and called for protests to continue into next week. Coptic churches were set ablaze, security forces and backers of ousted President Mohammad Morsi exchanged gunfire and the day's death toll swelled past 60. The figure was well below the two-day toll of 638 for Wednesday and Thursday, but observers saw no signs of hope the bloodshed would end anytime soon.
"We call on the Egyptian people and national forces to protest daily until the coup ends," the Muslim Brotherhood said in a statement in reference to the army's overthrow of Morsi last month, according to a Reuters report.
[pullquote]
Twenty-four members of the Egyptian police force have been killed since late Thursday night across the country, a security official told Reuters Friday, bringing the number of police killed in political violence to 67 since Wednesday.
Heavy gunfire rang out throughout Cairo as Muslim Brotherhood supporters clashed with vigilante residents in the fiercest street battles to engulf the capital since the country's Arab Spring uprising.

Carrying pistols and assault rifles, residents battled with protesters taking part in what the Brotherhood called the "Day of Rage," ignited by anger at security forces for clearing two sit-in demonstrations Wednesday in clashes that killed more than 600 people.
Security officials confirmed eight people were killed in the Nile Delta province of Dumyat north of Cairo -- when protesters tried to storm police stations, and four more people were killed in the Suez Canal city of Ismailiya.
Protesters and local residents exchanged gunfire and birdshot as tanks blocked key roads and key junctures. The Brotherhood urged its supporters in Cairo to head to Ramses Square, near the capital's train station in the heart of the capital. At least one protester was killed near Ramses Square, security officials said.
Saudi King Abdullah was the latest to react to the violence in Egypt, calling on Arabs to stand together against "attempts to destabilize'' the country, according to a Reuters report.
"The Kingdom of Saudi Arabia, its people and government stood and stands by today with its brothers in Egypt against terrorism,'' King Abdullah said in a message of support for Egypt's military leadership read on Saudi TV Friday.
Saudi Arabia was a close ally of former Egyptian president Hosni Mubarak and has historically had a difficult relationship with the Muslim Brotherhood. It pledged $5 billion in aid to Egypt after Morsi was ousted from the presidency in July.
Soldiers blocked access to the landmark Tahrir Square in Cairo, where dozens of anti-Brotherhood protesters have been camped out for weeks. Barbed wire surrounded the area.
Men carried assault rifles on the overpass leading to Ramses Square.
Also Friday, security officials said assailants detonated explosives on train tracks between Alexandria and the western Mediterranean Sea province of Marsa Matrouh. There were no injuries and no trains were damaged from the attack, officials said, speaking on condition of anonymity in line with regulations.
The Brotherhood's political wing, the Freedom and Justice Party, said in a statement Friday that the group is not backing down and "will continue to mobilize people to take to the streets without resorting to violence and without vandalism."
"The struggle to overthrow this illegitimate regime is an obligation, an Islamic, national, moral, and human obligation which we will not steer away from until justice and freedom prevail, and until repression is conquered," the statement said.
The Associated Press and Reuters contributed to this report.