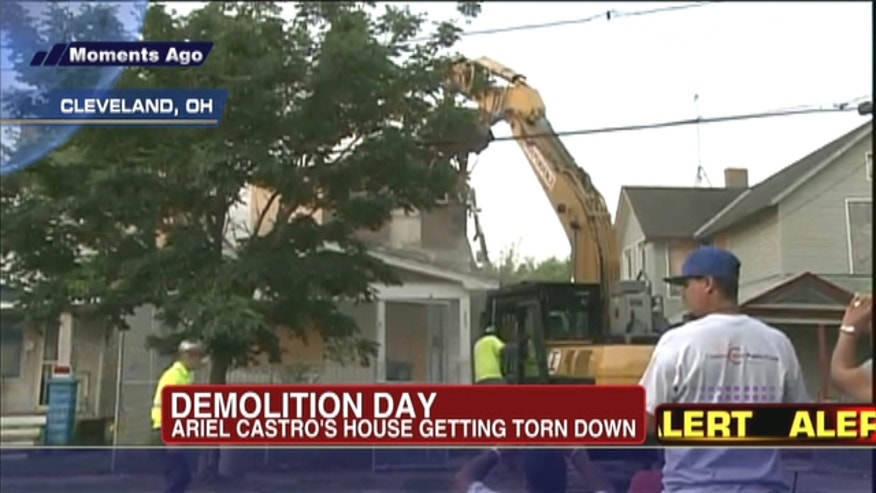 Even Google Maps has erased this house of horrors.
The demolition of the Cleveland home where Ariel Castro imprisoned and raped three women nearly a decade began Wednesday morning.
The nonprofit responsible for the demolition of the Cleveland house where three women were imprisoned has taken additional precautions to ensure that people do not collect rubble that could later be sold online.
Castro, who was sentenced to life in prison without parole - plus 1,000 years after pleading guilty to hundreds of charges related to the kidnapping and rapes of the women., agreed to pay for the $22,268.83 demolition as part of his plea deal.
The (Cleveland) Plain Dealer on Tuesday reported that the Cuyahoga Land Bank expects to complete the demolition of Castro's house in one day and shred all the building materials.
The land bank acquired Castro's home on Seymour Avenue last week, and the house's electricity was turned off on Monday after his family and friends removed personal items from it, including photographs and musical instruments.
A contractor is scheduled to tear down the home Wednesday morning. Plans for what will replace the house on the site haven't been made public.
The land bank's president, Gus Frangos, told the newspaper that the organization is trying to keep away scavengers who might try to sell the rubble as what is known as "murderabilia."
In 2011, a website that sells items related to high-profile crimes put on sale 1-gram packages of soil from the home of Cleveland serial killer Anthony Sowell before a city agency razed the house.
Sowell was convicted that year of killing 11 women and was sentenced to death. His case is under appeal.
Based on reporting by the Associated Press.
Follow us on twitter.com/foxnewslatino

Like us at facebook.com/foxnewslatino