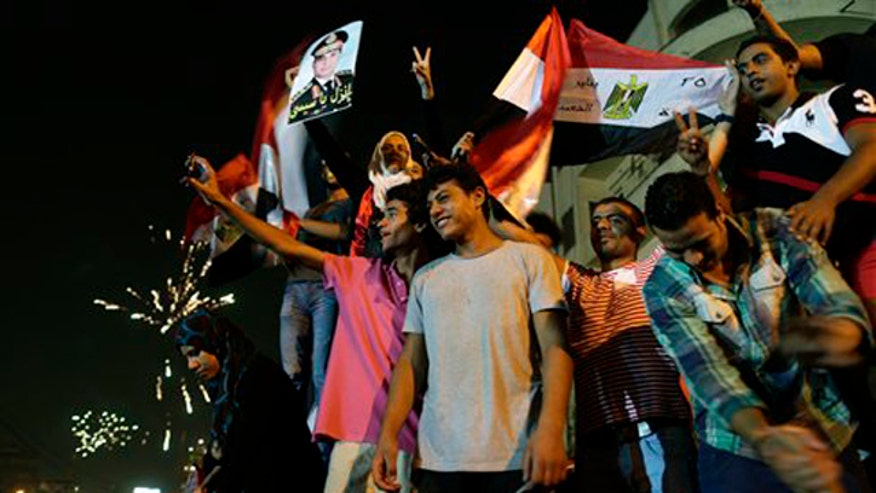 The supreme justice of Egypt's Supreme Constitutional Court was sworn in Thursday as the country's interim president after Mohammed Morsi, the country's first democratically elected president, was ousted and reportedly placed in police custody.
Adly Mansour was sworn in at the Constitutional Court in a ceremony broadcast live on state television. Mansour will serve as Egypt's interim leader until a new president is elected. A date for that vote has yet to be set.
Morsi was ousted in what was described by the presidential palace as a "complete military coup." The White House has not labeled Morsi ouster a a coup. Doing so would have U.S. aid implications.
The leader of Egypt's military ousted Morsi from office and replaced him with Mansour late Wednesday evening. The presidential palace immediately branded the move a "complete military coup."
[pullquote]
A ranking officer in Egypt's military described the scene to The New York Times. He said, "We are disciplined, and we have the weapons. That's what's on the market right now. Do you see any other solid institution on the scene?"
In his first remarks, Mansour praised the massive street demonstrations that led to Morsi's ouster. He also hailed the youth behind the protests that began on June 30, saying they embodied "the nation's conscience, its ambitions and hopes."
"The most glorious thing about June 30 is that it brought together everyone without discrimination or division," he said. "I offer my greetings to the revolutionary people of Egypt."
Manosur's assumption of office comes a day after the military deposed Morsi, who took office a year ago as Egypt's first democratically elected president. Morsi was in police custody on Thursday morning after he refused to step down on the orders of Gen. Abdel Fattah Al Sisi.
Ahmed Aref, a spokesman for the Muslim Brotherhood party, told Reuters both Morsi and an aide were being held but he didn't know their location. A security official said they were at a military intelligence facility, Reuters reported.
In announcing Morsi's ouster earlier Wednesday, Egypt's top military commander said he had been replaced by the chief justice of the constitutional court as interim head of state.
In addition, Gen. Abdel-Fattah el-Sissi said the country's constitution has been temporarily suspended and new elections would be held.
At least 14 people were killed in clashes between Morsi's supporters and opponents following the announcement, Reuters said, citing the state news agency MENA. Egyptian troops, including commandos in full combat gear, were deployed across much of Cairo, including at key facilities, on bridges over the Nile River and at major intersections
Eight of the dead were reported to be in the northern city of Marsa Matrouh, with three killed and at least 50 wounded in Alexandria. Another three were killed in the southern city of Minya.
In Washington, President Obama issued a statement Wednesday night saying the administration was "deeply concerned" by the decision to remove Morsi and urged the military to avoid "any arbitrary arrests" of the president and his supporters.
Obama also said in light of Morsi's ouster he had "directed the relevant departments and agencies to review the implications under U.S. law for our assistance to the government of Egypt."
At the same time, a security official in Cairo said the head of Morsi's Muslim Brotherhood political party and the organization's deputy chief had been arrested, reportedly in connection with an escape from prison in 2011.
The state-run newspaper Al-Ahram said arrest warrants were being issued for 300 members of the Brotherhood, Reuters reported.
Millions of anti-Morsi protesters in Tahrir Square and around the country erupted in cheers at the news of Morsi's ouster, setting off fireworks and shouting "God is great" and "Long live Egypt."
Morsi said on his presidential Facebook page that the military's action "represents a military coup and it is unacceptable."
A U.S. official said nonessential diplomats and embassy families had been ordered to leave Egypt amid the unrest. The State Department issued a warning urging U.S. citizens in the country to leave.
Witnesses told Reuters that the army erected barbed wire and barriers around Morsi's work compound, and moved in vehicles and troops to prevent supporters from getting to his palace.
The Associated Press contributed to this report.