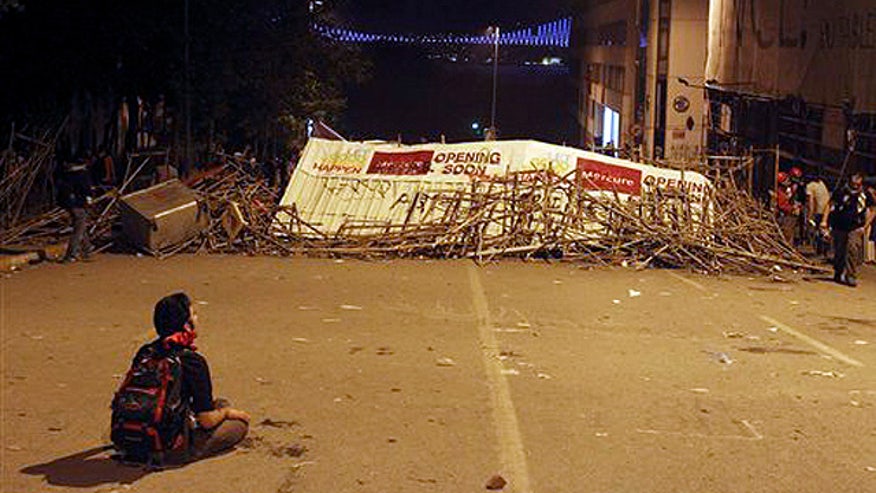 Trying to put an end to rising unrest, Turkey's deputy prime minister apologized Tuesday for police attacks amid ongoing anti-government protests in Istanbul.
Thousands have been participating in the protests, which began on Friday when police launched a pre-dawn raid against a sit-in protesting plans to uproot trees in Istanbul's main Taksim Square.
"The excessive violence that was used in the first instance against those who were behaving with respect for the environment is wrong and unfair," Deputy Prime Minister Bulent Arinc said, according to Reuters. "I apologize to those citizens."
"But I don't think we owe an apology to those who have caused damage in the streets and tried to prevent people's freedom," he added.
Arinc said he would meet with organizers of the original Friday protest, Reuters reports.
Since Friday, the demonstrations by mostly secular-minded Turks have spiraled into Turkey's biggest anti-government disturbances in years, and have spread to many of the biggest cities.
Turkey's 240,000-member public sector union, the Confederation of Public Workers' Unions, has launched a two-day strike alongside the protests, Sky News reports. The strike could affect schools and public offices in the country.
Turkey's president and prime minister displayed wide differences Monday in their responses to those taking to the streets.
Turkish Prime Minister Tayyip Erdogan dismissed the street protests as being organized by extremists and angrily rejected comparisons with the Arab Spring uprisings.
"We already have a spring in Turkey," he said, alluding to the nation's free elections. "But there are those who want to turn this spring into winter.
"Be calm, these will all pass," he said.
In contrast, President Abdullah Gul took a more conciliatory line, celebrating peaceful protest as a democratic right.
A 22-year-old man died during the protests Monday in a city near the border with Syria, as officials gave conflicting reports on what caused his death.
The Hatay province governor's office said the man, Abdullah Comert, died in a hospital after he was shot Monday during a demonstration in the city of Antakya. It suggested, however, that he may have been shot by demonstrators trying to inflame tensions, saying police had been fired on during the protest.
But the province's chief prosecutor said that an autopsy showed Comert received a blow to the head and there was no trace of a gunshot wound. It said authorities had launched an investigation into the death.
Clashes continued late into the night Monday in Istanbul, Ankara and other cities.
The Turkish Human Rights Association said some 3,300 people nationwide were detained during four days of protests, although most had since been released. At least 1,300 people were injured, the group said, although it said the true figures were difficult to come by.
Secretary of State John Kerry, who has traveled to Turkey three times since becoming America's top diplomat, said the U.S. was following the situation closely and was troubled by reports of excessive force being used by police. He also said Washington is "deeply concerned" by the large number of people who have been injured.
On Tuesday, hundreds of riot police backed by water cannons were stationed around Ankara's main square near the prime minister's office.
In an attempt to defuse the tensions, Gul held a meeting in Ankara with Arinc.
Gul has praised the mostly peaceful protesters as expressing their democratic rights. Erdogan, meanwhile, has rejected the protesters' demands for his resignation and dismissed the demonstrations as the work of Turkey's opposition.
Gul and Erdogan could face off next year in Turkey's presidential election.
The Associated Press contributed to this report.