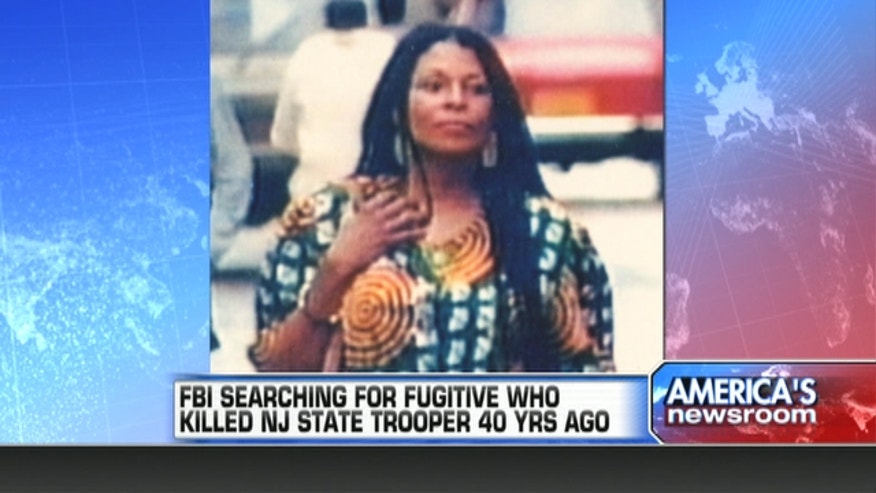 Forty years after she gunned down a New Jersey state trooper, then apparently lived the life on the run in Cuba, the FBI announced it is placing Joanne Chesimard on the FBI's Most Wanted Terrorist list and doubling the reward for her capture.
Chesimard, a member of the Black Liberation Army and godmother of slain rapper Tupac Shakur, is one of the country's most wanted criminals – and though authorities know where she is, she has eluded capture for decades.
She was wanted for several felonies when she was involved in a gun battle with police officers in Clinton, N.J. on May 2, 1973. A New Jersey state trooper, Werner Foerster, was killed in the gun battle. Another trooper was injured.
Although Chesimard was convicted and sentenced to life in prison, friends busted into the prison, took hostages, and helped her escape.
Years later, after hiding in a safe house in New Jersey, she surfaced in Cuba, which has no diplomatic relations or extradition treaty with the United States.
Detectives have been actively working the case since she escaped prison. While the case has long grown cold, the FBI plans to step up its efforts to capture her, according to The Record.
State Police Superintendent Col. Rick Fuentes told the paper that the convicted cop killer enjoys "rock star status in Cuba," where she is even listed in the phone book. She is given a free car and housing as a sort of award for spewing anti-America propaganda, Fuentes told the paper.
Chesimard, who was born in New York City, now goes by the name of Assata Shakur.
Chilly relations between the countries have made Cuba a haven for fugitives, but the climate is changing. Just last month, a Florida couple who sailed to Cuba was returned to the U.S. and accused of kidnapping their two young children from the boys' grandparents.
The Associated Press contributed to this report.
Follow us on twitter.com/foxnewslatino
Like us at facebook.com/foxnewslatino