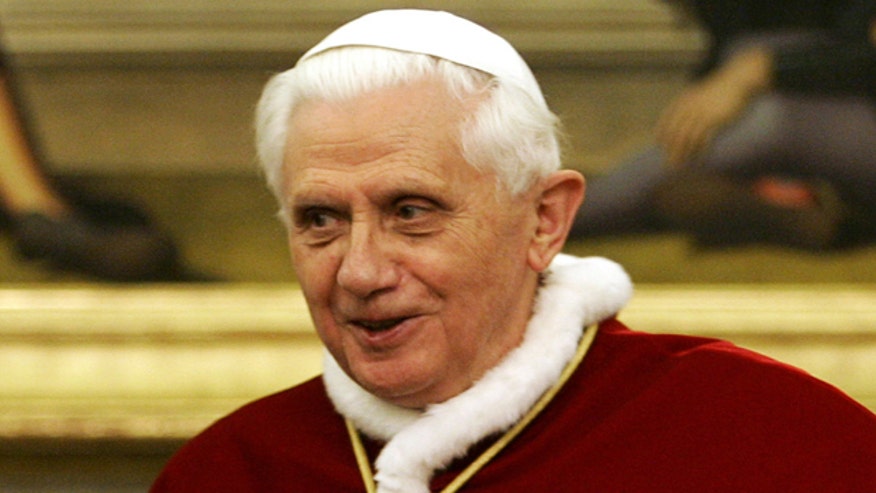 The likely successor to Pope Benedict XVI will continue his conservative vision with a younger, more energetic outlook and perhaps hail from Africa, Asia or Latin America, religious experts told FoxNews.com.
The decision by the 85-year-old pope to step down sets the stage for a conclave next month to elect a new leader for a Roman Catholic church carefully navigating a global clerical sex abuse scandal and other hurdles, including declining membership. Several theologians told FoxNews.com they expect the next leader of the billion-member church to continue Benedict's conservatism, especially since the bulk of the College of Cardinals was selected by Benedict himself.
"The entire College of Cardinals has been appointed by Pope John Paul II and Benedict XVI, therefore it's extraordinarily unlikely that the next pope will not reflect their collective interpretation of the council, which means in worldly terms, a conservative pope," said R.R. Reno, editor of First Things magazine and professor of theology at Creighton University, in Omaha, Neb. "So the question is whether the College of Cardinals wants another 'professor pope' or do they want someone to kind of deal with the Vatican bureaucracy, or a diplomat?
"I'm not a handicapper and I couldn't begin to speculate," he said. "But the common wisdom is these things swing like a pendulum."
William Hill, Britain's largest bookmaker, offered odds of 3/1 against for Nigerian Cardinal Francis Arinze, who is 80 and was once the world's youngest bishop. Odds were set at 7/2 for Canadian Cardinal Marc Ouellet and Ghanian Cardinal Peter Turkson.
Irish bookmaker Paddy Power had the same trio as frontrunners, but made Ouellet the favorite. Britain's Ladbrokes had Turkson the leading contender.
Other possible successors include Cardinal Angelo Scola, the archbishop of Milan, Cardinal Christoph Schoenborn, the archbishop of Vienna and Cardinal Oscar Andres Rodriguez Maradiaga of Honduras.
Whomever is selected, Reno said, will have the initial task of providing a "strong, clear identity and purpose" internationally, particularly in Europe and throughout Latin America.
[pullquote]
Cardinal Timothy Dolan of New York is a "long shot" at best, Reno said.
"It's not clear that the rest of the church would accept American hegemony," he said, despite the fact that Dolan backs the pope's conservative vision.
Rev. James Bretzke, a professor of moral theology at Boston College, told FoxNews.com he sees the decision going one of two ways.
"There will be debate and discussion that will pull in two directions: younger and more energetic, but more or less the same theologically with [Benedict]," Bretzke said. "And the other major consideration would be to look specifically for a face that represents the emerging church in Africa, Asia and possibly Latin America."
Turkson, 64, of Ghana is seen as the leading candidate from Africa, Bretzke said. He currently heads the Vatican's office for justice and peace. Another possible candidate is Cardinal Antonio Tagle, the archbishop of Manila, but at age 56 he is considered far too young.
"But he's very well respected," Bretzke said of Tagle.
Within Latin America, Bretzke cited Cardinal Jorge Mario Bergoglio — archbishop of Buenos Aires — as the leading candidate.
"He's well respected in Latin America and was a leading candidate in the last conclave," Bretzke said. "He would be a safe candidate, sort of a known entity."
When pressed for whom he thought was the leading candidate worldwide, Bretzke selected the 71-year-old Scola, who was appointed Archbishop of Milan by Pope Benedict XVI in June 2011 after serving as Patriarch of Venice since 2002.
"I think it's going to be someone from Europe, someone trustworthy in Italy," he said. "I think the front-runner would be Cardinal Scola. He's not too old, not too young. If you give me a limited number of bets to make, that's where I would put my money."
But Bretzke, who did not predict Pope Benedict's selection in 2005, said presumed favorites don't typically win, with Benedict and Pope Paul VI being notable exceptions.
"But sometimes they do," he said.
The Associated Press contributed to this report.