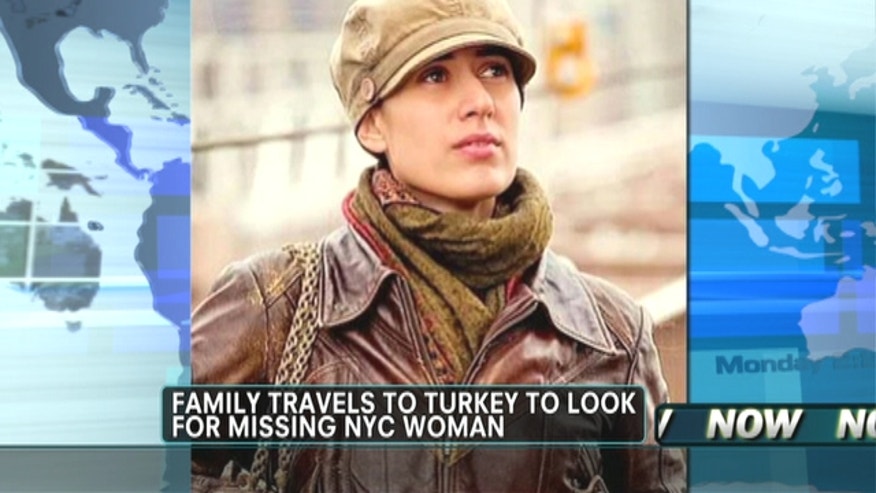 The husband of a New York City mother who went missing while vacationing in Istanbul last week was interviewed by police in Turkey Tuesday in hopes of helping the search to try and find her.
The state-run Anadolu Agency said U.S. Consulate officials accompanied the husband of Sarai Siera's and her brother to the police station where the husband, Steven Sierra, made a deposition to police who specialize in missing persons.
Police have since released security camera footage that shows Sierra eating alone in the food court of a shopping mall near the hostel where she was staying and walking around the mall, dressed in jeans, a brown leather jacket and a winter hat, her hands in her pockets.
Another image shows her walking along a main shopping street, wearing earphones. Police did not say when the images were recorded, but Turkey's Hurriyet newspaper said the images were from Jan. 20.
Hurriyet, quoting unnamed police sources, said Turkish officials were not notified about the disappearance until Jan. 25 and said the delay was hampering the search.
A representative from the office that representatives Istanbul at the U.S. State Department told Fox News Latino that they have been contact with Turkish authorities but would not provide further comments out of respect for the family's privacy.
Sierra, a 33-year-old wife and mother, has not been heard from since Jan. 21, the day she was set to return home from a three-week-long trip to Turkey. Sierra, who is Puerto Rican, was traveling alone.
Before she went missing, Sierra, the mother of two, had been in regular contact with her family and friends, and told relatives she planned to take photographs at the Galata Bridge — a tourist landmark that spans the Golden Horn waterway and is lined with fishermen.
Police have said Sierra made an excursion to Amsterdam, Netherlands, from Istanbul on Jan. 15 and travelled on to Munich, Germany, on Jan. 16 before returning to Istanbul on Jan 19. Police were trying to determine the reason for her visit to the European cities.
Sierra's mother, Betzaida Jimenez, told Fox News Latino the family has been in contact with the U.S. embassy as well as government officials in Turkey.
"All I know is that when I see my daughter I am going to hug her and kiss her and thank God for her safety," her mother said.
The Associated Press contributed to this report.
Like us on Facebook
Follow us on Twitter & Instagram