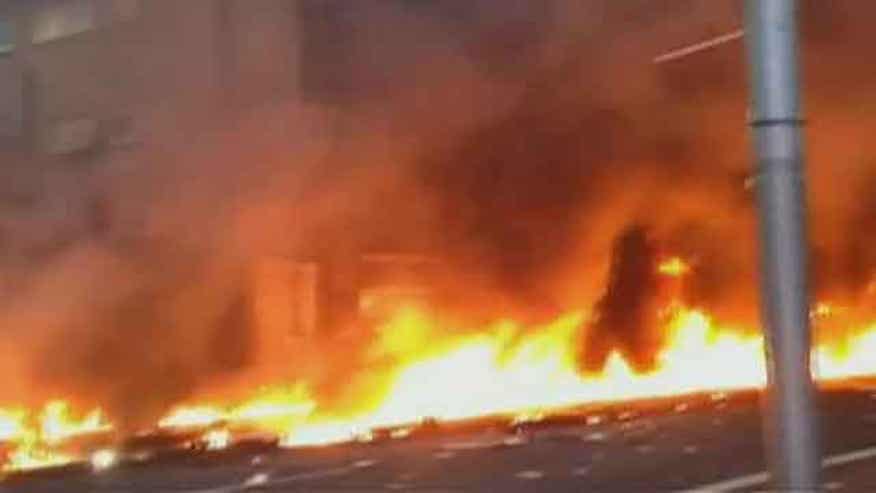 Authorities say two people were killed when a helicopter crashed into a London street after apparently hitting a construction crane.
The pilot and one person on the ground were killed and 13 others injured, one critically, officials said. Several people were taken to a nearby hospital with "minor injuries," London Ambulance Service added.
The helicopter crashed just south of the River Thames near the Underground and mainline train station at Vauxhall, and British spy agency, MI6.
A photo shown on Sky News showed wreckage burning in a street, and a large plume of black smoke was seen rising in the area. Video from the crash scene showed a line of flaming fuel and debris.
London Fire Brigade said it was called at 8 a.m. to a report of the crash on Wandsworth Road on the south bank of the Thames.
"There was a flash and the helicopter plunged to the ground. It exploded and you can imagine the smoke coming out of it," Paul Ferguson, an office worker near the scene, told BBC News.
Erin Rogers, who was waiting a bus stop near Vauxhall Station, said she "heard a bang and saw bits of crane debris falling to the floor."
"Then the helicopter was in flames. The rest of the people at the bus station were looking on going `What was that?"'
Police said the helicopter appeared to have hit a crane.
Early reports indicated the crane was at St. George's Wharf, a high rise apartment complex with apartments that offer sweeping river and city views.
William Belsey, 25, a landscape worker, said the crane operator was not inside because he was late for work.
British aviation authorities had issued a "notice to airmen" warning pilots about the crane, which extended to 770 feet above ground. The crane is lit at night, and police said investigators would look at whether the light was faulty.
The pilot, who was killed, had requested to divert and land at the nearby London Heliport.
"We received a request from Heathrow air traffic control to accept the helicopter, which had asked to be diverted due to bad weather," the heliport said in a statement.
"The London Heliport never gained contact with the helicopter," the statement added.
The Ministry of Defense said it was not a military helicopter, and a British security official who spoke on condition of anonymity because he wasn't authorized to speak to the press said the incident was not terror-related.
The area where the crash occurred, roughly ten blocks from the major Waterloo train and Underground station, is extremely congested during the morning rush hour. Many commuters arrive at the main line stations from London's southern suburbs and transfer to busses or trains there.
The Associated Press contributed to this report.