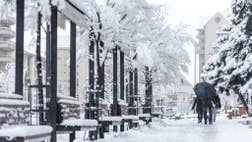 Romanian authorities say two teenagers have died in an avalanche in western Romania after the country was hit by a blast of wintry weather.
Heavy rain and locally severe thunderstorms will advance across the southeastern United States to close out the weekend.
As drought conditions and brush fires continue to plague Florida, a new set of mandatory evacuation orders was issued on Friday morning for portions of Collier County.