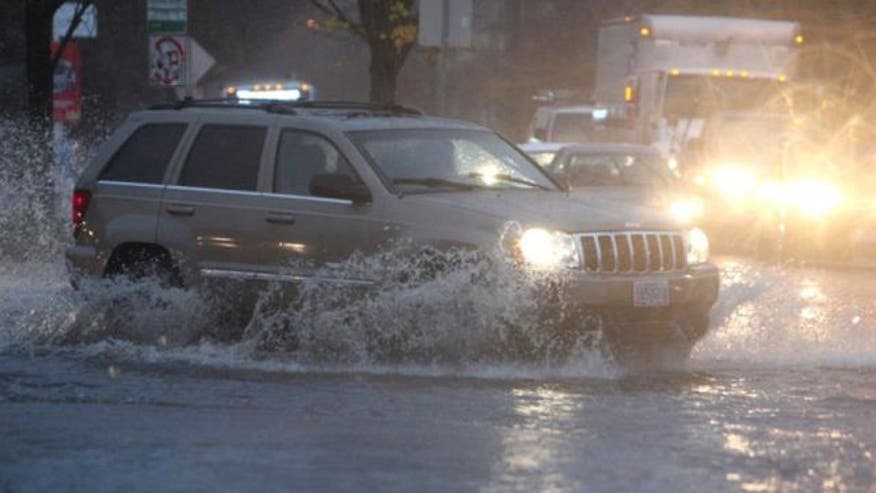 SEATTLE – Thousands of motorists were stranded Thursday during a major storm in the Pacific Northwest that caused a landslide that stopped all northbound traffic on a major highway connecting Washington and Oregon.
Forecasters say the storms that left two people dead, flooded rivers and caused mudslides, were easing up, but the threat from slides and flooding remained.
"It was crazy and I was scared," said Diane Smith of Lacey, Washington, who was stuck for three hours behind the landslide on Interstate 5 just 26 miles north of Portland, Oregon, and then drove a steep, windy mountain road to get around the slide.
The massive landslide blocked the lanes Wednesday afternoon after a hillside of rocks and dirt collapsed on the roadway after days of pounding rain.
The National Weather Service was checking reports of a possible tornado touching down in southwest Washington on Thursday.
There were reports of damage to structures but no initial reports of injuries.
Forecasters at the National Weather Service say more landslides could be on the way, as rain soaked hillsides are expected to remain wet through the weekend.
"The threat of landslides doesn't end when the rain does," said Kirby Cook, science and operations officer with the weather service office in Seattle.
Smith said her detour onto the Green Mountain Road above Woodland, Washington, was by accident. After being stuck on the highway, she followed directions and left the freeway. But when she got off I-5, it wasn't clear which of three routes to take.
Smith, who was driving her 6-year-old grandson and his other grandma back from Vancouver, Washington, probably made the wrong choice, according to the Washington Department of Transportation. Officials used social media to discourage drivers from taking the mountain road without guardrails around the slide, but as Smith points out, she was driving, not checking her cellphone for updates.
"It was scary. I was like 'Oh, my gosh'," she said, adding that she wasn't sure if she was going the right way until she made it back to the freeway.
Her grandson declared the experience an adventure to remember.
The other weather danger hanging over the Pacific Northwest comes from high waves on the coast and inland waters that could cause coastal flooding, Cook said.
More storms are coming, but nothing as strong as earlier this week. Steady rain of the usual winter variety is expected in Oregon and Washington over the next few days. The major storms have shifted south into California.
Residents throughout western Washington and Oregon were assessing damage Wednesday from the heavy rains and strong winds when another storm hit that night, cutting power to more residents and businesses.
People who live along the Snoqualmie River in Washington state are used to waters cresting the banks, but the storms that slammed the Pacific Northwest this week were more intense and destructive than residents have seen in some time.
Forecasters say more rain is on the way Thursday and through the weekend.
On Wednesday afternoon, a woman was found dead inside a vehicle in knee-to-waist deep water in Clatskanie, Oregon. Firefighters rescued her husband who was standing on top of the car.
Oregon State Police identified her as 72-year-old Penny Forrest. It's unclear if her husband, Richard Forrest, will be cited for going around a road closure and driving into floodwaters, Lt. Bill Fugate said.
In Portland, a large Douglas fir tree crashed into a home early Wednesday, killing a 60-year-old woman who was in bed.
Dennis Elleson told The Oregonian that his wife, Roberta "Bobbi" Elleson, had moved to a different bedroom to sleep a few hours before.
"I ran in the bedroom and she was moaning," Dennis Elleson told the newspaper. "I went to her side and told her, 'Hang on. Hang on.'"
He said he couldn't move the tree and tried to find a place for her to get air, but it was too late.
Washington Gov. Jay Inslee declared a state of emergency, directing the Washington Military Department to coordinate a response.