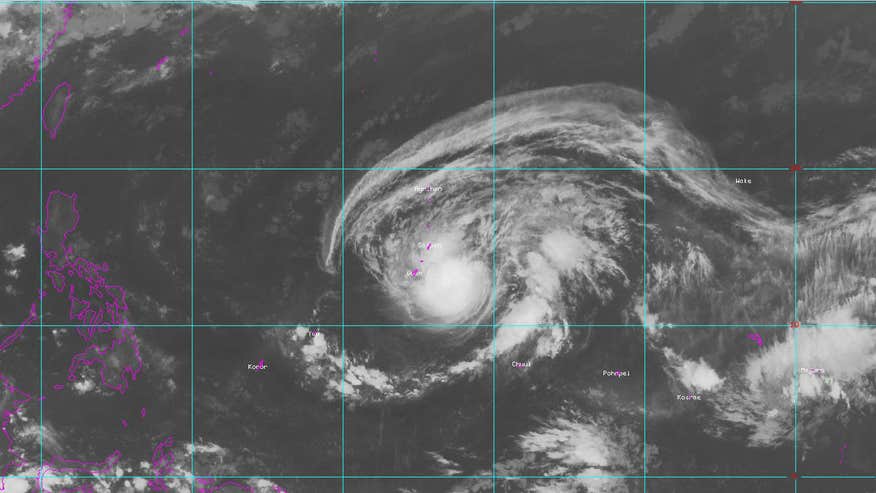 HAGATNA, Guam – A powerful Pacific typhoon was expected to hit the U.S. territory of Guam late Friday night.
Senior meteorologist Mike Middlebrooks said Typhoon Dolphin will likely reach the northern part of the U.S. territory around 8 p.m. Guam time.
"A heavy band is moving across the island and the eye will hit northern Guam," he told The Associated Press.
He said that parts of the island were already experiencing the storm's powerful winds.
Dolphin — with sustained winds estimated at 110 mph — was moving slowly across the Pacific at about 10 mph. Middlebrooks cautioned that the system could deviate, so meteorologists are "watching it real close."
Residents of this island of about 160,000 people are bracing for potentially damaging winds and flooding.
Five public schools are serving as emergency shelters for 748 residents. Twenty-four pregnant women have checked-in to Guam Memorial Hospital, according to Gov. Eddie Salvo's office.
Guam was already getting some surf, with a beach on the eastern coast reporting 16-foot waves.
National Weather Service meteorologist Genny Miller said the agencies will likely maintain high-surf advisories for 24 hours after the typhoon passes.
Some airlines canceled flights scheduled to arrive or depart Guam on Friday.
Authorities have warned residents in low-lying areas to be on the lookout for flooding and to move to higher ground if necessary.
Officials say no one except public safety and emergency response personnel should be outdoors after 5 a.m. Friday.
Typhoons are the same as hurricanes and cyclones. Distinctive terms for the storms are used in different parts of the world.
Tropical weather frequently affects Guam, so much so U.S. military officers like to say it's located in "Typhoon Alley." Two typhoons and one tropical storm have affected Guam in the past eight months, including Dolphin.
But the island rarely gets direct hits from typhoons because its land area is so small. The last direct hit was in 2002, when a super typhoon, Pongsona, killed one and caused about $250 million in damage.
There are two U.S. military bases in Guam, Andersen Air Force Base and Naval Base Guam. Both were closed Friday to everyone except for essential personnel.
A Navy telephone hotline message warned people not to drive and to avoid going outside. There are about 4,000 sailors assigned to Guam along with 6,500 dependents.
A typhoon preparation guide on Andersen's website notes Navy and Air Force housing on Guam is constructed with reinforced concrete, enabling them to withstand high typhoon winds. The site encourages people to check their storm shutters ahead of time to make sure they are working and to stay inside.
The Air Force says more than 5,000 airmen and their family members live on Guam.
Guam and neighboring Rota, a tiny island 50 miles away, are part of the Mariana Islands chain and share a common heritage and native language. Rota has about 2,500 residents and many buildings threre are made of concrete.
Guam is a tropical island about 1,500 miles south of Tokyo and is known for scuba diving, white beaches and historic World War II battle sites, and it depends heavily on tourism.