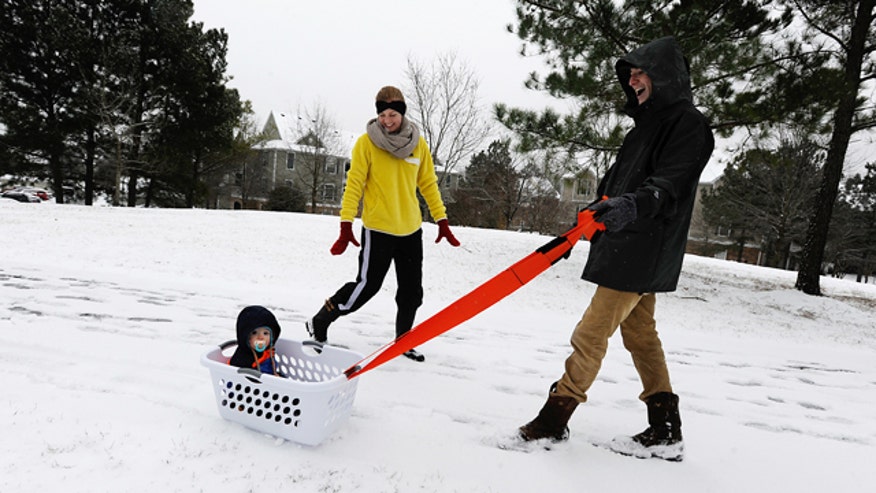 States of emergencies have already been declared and schools have already been closed ahead of wintry weather mix that is expected to continue to batter a wide swath of the country Wednesday.
A low pressure system off the southeastern U.S. coastline was expected to bring a wintry mix of rain, snow, sleet, and freezing rain to portions of the eastern Carolinas on Wednesday evening before quickly moving offshore, according to the National Weather Service.
Below average temperatures were expected to continue for much of the Central and Eastern U.S.
But precipitation across the southeastern U.S. would come to an end from west to east Wednesday night into early Thursday as the surface low moves off the southeastern U.S. Coast., the weather service said.
However, the wintry weather showed no sign of letting up Tuesday.
In Michigan a man was seriously injured after he got out of his car on a bridge and was struck by a vehicle in a chain-reaction crash, officials said.
The 11-vehicle wreck happened around 9:30 a.m., Executive Secretary Bob Sweeney of the Mackinac Bridge Authority said.
Winds up to 50 mph whipped snow off the frozen Straits of Mackinac, making visibility poor, Sweeney said.
A man got out of his car to switch places with his wife and was hit. Then a number of other vehicles ran into each other, he said.
The injured motorist was taken to a hospital but his condition was unknown, Sweeney said.
The 5-mile-long bridge was closed until about 2:20 p.m.
In Ohio, as snow and frigid temperatures continue, communities in parts of the state are running short on road salt, city officials said.
Some cities have waited weeks for hundreds of tons of ordered salt, the Northeast Ohio Media Group reported.
The region has recorded nearly 60 inches of snow since November. Lower-than average temperatures have made snow harder to melt and roads more difficult to clear.
For some cities, a serious salt problem is just one more snowfall away.
"We have enough to last this next week, but if it keeps consistently snowing it's going to be difficult," Middleburg Heights Service Director Jim Herron said.
At Duke University in North Carolina, psychology professor Amir Rezvani brought his class outside for an impromptu snowball fight near the traffic circle that surrounds the statue of Washington Duke. More than two dozen students giggled and bent over to grab handfuls of snow and pelt one another.
"I asked them to come out for 10 minutes," Rezvani said before bending over and balling up some snow.
Mary Gabrielle Thomas, a freshman from Boston, said the "snow's not very impressive." But she admitted the snowball fight was wonderful.
At the Top of Georgia Hostel & Hiking Center, a shelter for hikers on the Appalachian Trail, the branches of pine trees were dipping low with the weight of about 4 inches of snow, proprietor Bob Gabrielsen said Tuesday morning.
About 16 hikers spent the night Monday, Gabrielsen said, and all of them hiked out Tuesday morning on the trail, which was transformed into a bright white snowscape in the north Georgia mountains east of Hiawassee. This time of year, some hikers camp on the trail itself.
Gabrielsen warned that inexperienced hikers could find themselves in trouble because weather forecasts aren't always accurate, cellphone coverage can be spotty or nonexistent, and roads can be several miles away.
Some people think hiking the Appalachian Trail "is like the Pirates of the Caribbean ride where you can get off when you want to -- and you can't necessarily do that," Gabrielsen said.