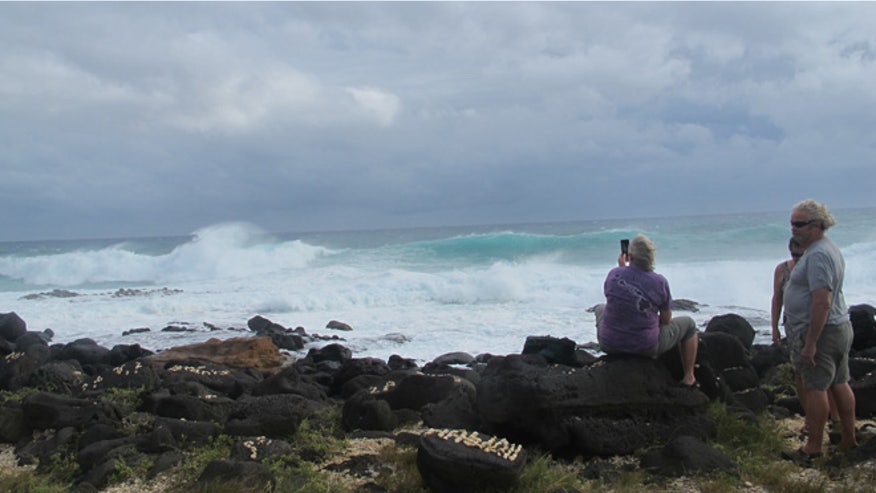 KAILUA-KONA, Hawaii – Hurricane Ana was on course Saturday to miss Hawaii by more than a hundred miles but was generating high waves, strong winds and heavy rains that prompted flash-flood warnings throughout the islands.
The center of the powerful Pacific storm was about 215 miles southwest of the Big Island and about 150 miles southwest of Honolulu, the National Weather Service said.
A tropical storm watch remained in effect for much of the rest of the archipelago.
The heavy rains on the Big Island prompted officials to close Mamalahoa Highway, the only road connecting some communities to the eastern side of the island, a region known for its coffee farms.
Police set up roadblocks between Naalehu and Pahala and a bus was stuck on one side of the flooded thoroughfare.
The heaviest rains were falling along the southeast slopes of Mauna Loa, in the Puna district — which was hit hard recently by Tropical Storm Iselle — and the Kau district on the southeast side of the island.
"It's still raining, and raining quite hard in some places," said Bob Burke, a meteorologist with the National Weather Service. Exact rainfall totals weren't available but about 6 to 8 inches of rain was expected, with some isolated areas possibly getting up to a foot.
The heavy rains were headed to Oahu, where the island's North Shore and Koolau Mountains were already getting hit with precipitation, Burke said.
Waves were expected to crest to 10 to 15 feet on the south shores of the islands and remain high through Sunday.
"Any of the islands could experience tropical storm impacts ... so it's important to still prepare and make plans," said Chris Brenchley, a weather service meteorologist.
Ana became a Category 1 hurricane Friday when it was about 230 miles south of Hilo. Large swells pounded the Big Island's south shores Friday afternoon, with 15-foot waves seen in Pohoiki Bay.
The storm had maximum sustained winds of 80 mph Saturday morning and was churning along its course at 13 mph.
The hurricane was expected to gradually weaken and again become a tropical storm by Sunday afternoon, Burke said.
The approaching storm didn't stop some tourists from spending time around the beach on Friday.
"We cannot see any threat here," said Sergei Bygchkov of Vancouver, Canada. "It's just a little bit rainy and that's it and a little bit windy."
Kim and Adam Stocker from New Hampshire were exploring the Big Island's West side Friday and weren't going to let a storm interfere with their first vacation to Hawaii.
"It's like 'I don't care, I'm going. Hurricane or not,'" said Adam Stocker, 49. "I got the time off. It's already paid for."
Gov. Neil Abercrombie proclaimed an emergency to help the state respond to the storm.
The American Red Cross opened evacuation shelters on the Big Island. Island Air suspended its Maui and Lanai flights Saturday afternoon and all flights Sunday, but airports remained open.
On Oahu, less rain was expected than previously predicted, but officials remained concerned about high surf, storm surge and flooding, Honolulu Mayor Kirk Caldwell said.
"It looks a little better, but we're still preparing for the worst," Caldwell said. "We don't want to scare anybody if unnecessary, but we want to be ready."
Camping permits on Oahu were revoked for the weekend, but most parks remained open except for Hanauma Bay, which will be closed on Sunday.