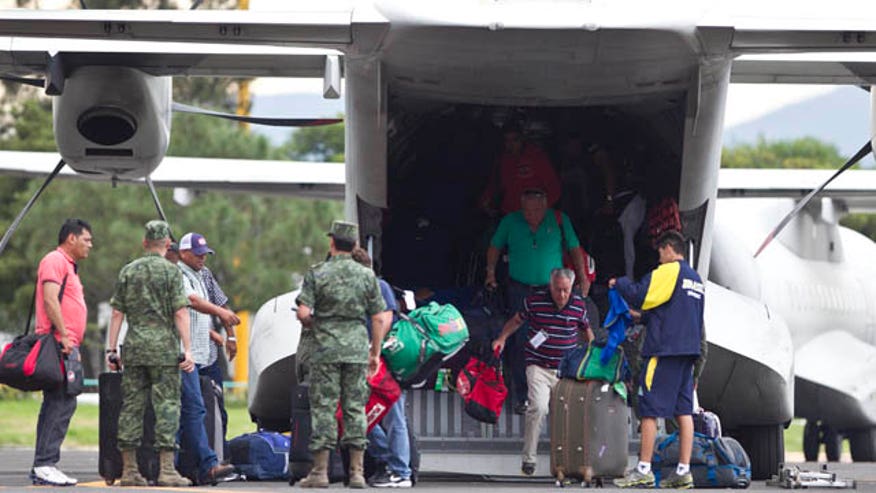 MEXICO CITY – Mexico's government airlifted thousands of stranded tourists out of the hurricane-ravaged resort of Los Cabos, as a weakened Odile headed over the Gulf of California Wednesday on a path toward Arizona and a new storm loomed to the south.
The remnants of Odile, which had been downgraded from a hurricane to a tropical storm, were expected to reach Arizona in the evening and strike hardest in the Tucson area, though forecasters said Phoenix could get lashed with rain and heavy winds as well.
The U.S. National Hurricane Center said parts of Arizona and New Mexico could receive 6 to 9 inches of rain, and possible flash flooding.
In Mexico, residents of the resort state of Baja California Sur struggled with a lack of power and running water and formed long lines for emergency supplies. There were scattered reports of looting.
"They need generators, they need electrical poles. They need to ... get the power turned on," said Tom Lucas of Moorepark, California, who got out on an evacuation flight to Tijuana. Otherwise, he said, "the sewage is going to back up. It's going to be horrible."
Mexican President Enrique Pena Nieto's office said the federal government was working closely with state authorities on relief efforts including restoring water service.
It said more than 239,000 people had their power knocked out by the storm, and 95 percent of electrical service in the affected areas was expected to be restored within four days.
With Los Cabos international airport still closed due to damage from Odile, tourists were being flown out on military and commercial planes. Some 685 U.S. travelers arriving in Tijuana were taken to the border late Tuesday to return home.
Carla Tapia of Mexicali, Mexico, said her family was given priority because they have two young children. Still, the wait was about six hours to get out.
"The destruction carried on for hours," she said of the hurricane. "It's really a mess now."
In La Paz, Greg Hamilton, who was coaching Canada's under-18 baseball squad at the World Junior qualifying tournament, said he spent two days at an air base watching other teams be ferried out. His squad and the Americans were the last of the 10 teams participating still stuck there.
"We're just trying to figure out why it was so easy for the rest of the teams to leave," said Hamilton, of Ottawa, Canada. "We watched the Cubans arrive and take off right away, and `adios,"'
"We've been standing here for two days, and nobody tells us anything."
Officials estimated it would take two days to ferry out the 30,000 tourists in the area, most of them foreigners.
Emergency officials reported 135 people suffered minor injuries. There were no reports of fatalities.
But a new storm threatened to whip the region in days to come.
Tropical Storm Polo was moving up Mexico's Pacific coast with a possible brush by Los Cabos by Sunday, though its center was projected to stay offshore.
Polo was located 150 miles south-southwest of Zihuatanejo with maximum sustained winds of 60 mph, and was moving northwest at 10 mph. The hurricane center predicted that Polo could become a hurricane by Wednesday night or early Thursday.
The center said Odile had maximum sustained winds near 40 mph on Wednesday. It was about 50 miles south-southeast of Puerto Penasco, a tourist town known to many Americans as Rocky Point, and was moving to the northeast near 6 mph.
Meanwhile in the central Atlantic, Hurricane Edouard was a Category 1 storm with maximum sustained winds near 90 mph. It was far from land, but forecasters said swells from Edouard would begin affecting parts of the U.S. East Coast north of Florida, likely causing dangerous rip-current conditions.