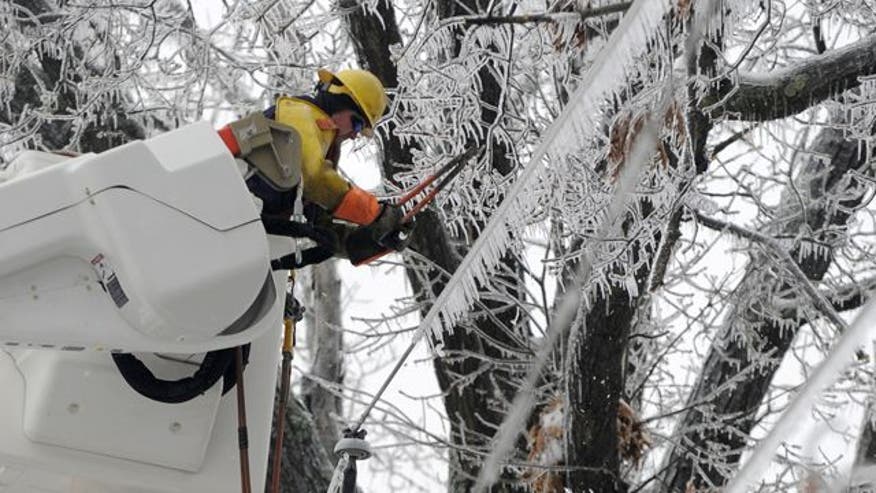 HARRISBURG, Pa. – Utility crews aren't getting much relief from the weather as they work to restore electricity to hundreds of thousands of people in Pennsylvania and Maryland, two days after an ice storm downed power lines and trees.
Forecasters said the cold weather gripping the mid-Atlantic on Friday should remain in place through the weekend, and snow was possible.
About 440,000 customers are without power in Pennsylvania, along with about 50,000 in Maryland.
Utility companies have said they hope to have most of them back online by the end of the day Friday, but in some cases it may take much of the weekend.
Crews from as far away as Canada and Arkansas have been called in to help out, and officials are comparing the scope of the damage to a hurricane. Some who might not get power back for several days sought warmth — or at least somewhere to recharge their batteries — in shopping malls, public libraries and hastily established shelters.
Pennsylvania Gov. Tom Corbett said after an aerial survey of the storm's aftermath on Thursday that crews put a priority on restoring electricity to hospitals, nursing homes, communications facilities and sewer plants.
"This storm is in some respects as bad or maybe even worse than Hurricane Sandy," he said during an appearance in the Philadelphia suburbs. He said a shipment of electrical generators from the federal government was on its way to Pennsylvania.
He said he was urging electric utilities "to move as fast as they can, but they have to do it within the parameters of safety."
PECO, the dominant electricity provider in the Philadelphia area, had the most outages with 394,000. PECO spokeswoman Debra Yemenijian said most would have their lights back on by Friday night, but she said some could be without power until Sunday.
About 200 people took advantage of seven shelters in three suburban Philadelphia counties, according to the American Red Cross of Southeastern Pennsylvania. Shelters also were open in central Pennsylvania.
The Northeast's second winter storm of the week dumped more than a foot of snow in some places on Wednesday, forcing schools, businesses and government offices to close, snarling air travel and sending cars and trucks sliding on slippery roads and highways. It also left a thick coating of ice on trees and power lines.
"Many of them already had a coating of snow on them," said Mark Durbin, a spokesman for the utility FirstEnergy. "It's that weight that crushes our equipment. Multiply that by hundreds of locations."
Approximately 437,000 remained without power by Thursday night, down by several hundred thousand from Wednesday and falling over the course of the day. After PECO, FirstEnergy had about 31,000 outages in central Pennsylvania, PPL had 8,000 in eastern Pennsylvania, and there were several thousand others in the state. Some 53,000 Maryland power customers were in the dark.
Corbett said utility companies were ramping up to have about 5,000 people working to reconnect customers.
Thursday saw the lower 48 states record what is likely to be their lowest average temperature of the season, just 11 degrees.
Forecasters said it would remain chilly through the weekend in the mid-Atlantic, with daytime highs around freezing and overnight lows in the teens. Light snow was expected over the weekend.