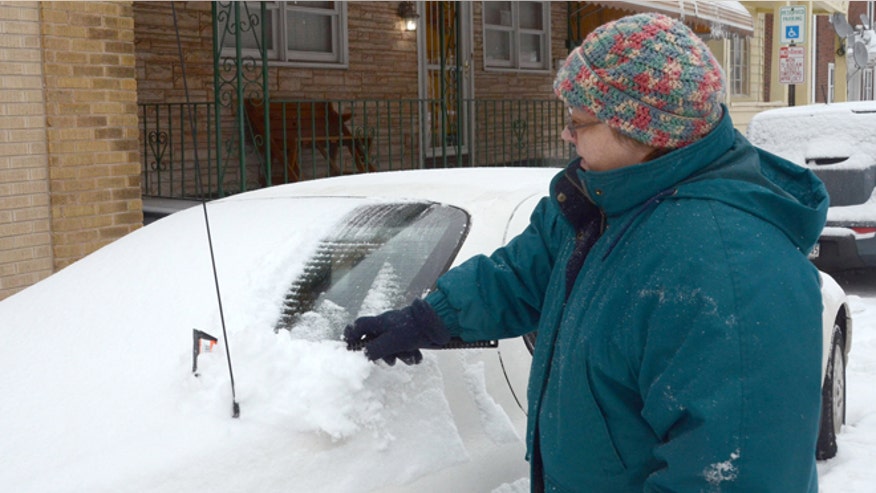 CONCORD, N.H. – More snow and frigid temperatures trudged into New England and the Northeast on Tuesday even as crews continued to clean up from a weekend storm.
The latest storm was expected to make its way into southwestern New England by late Tuesday morning and gradually track to the Northeast. Parts of Maine could see upward of 9 inches by the time the storm pushes off the coast Wednesday afternoon, according to National Weather Service meteorologist Tom Hawley in Gray, Maine.
Most of the region will see 3 to 6 inches of snow.
"My feeling is it's wonderful," Tony Hartigan said as he walked quickly across Main Street in Concord, N.H. He wore no hat or gloves despite the bank thermometer over his shoulder that blinked 3 degrees. "It packs the ski resorts, it's pretty for Christmas and I spent last week in Florida so I didn't see it!"
Temperatures were below zero for many parts of the region Tuesday morning — including minus 27 in Berlin, N.H. — and 10 to 15 degrees below normal for this time of year. Temperatures will start to rise as the weekend approaches and could hit 60 in Boston by Sunday, Hawley said.
In Lewiston and Auburn, Maine, the extreme cold temporarily shut down the bus system after sub-zero temperatures froze air lines that run hydraulic and steering systems.
It was so cold in Maine that power cables snapped in at least two locations — one in Cumberland County, the other in Somerset County — leaving about 950 homes and businesses without electricity and heat for a couple of hours in subzero temperatures.
"The wires can contract so much to the point that they snap. If it gets super cold, that can happen," said Gail Rice, a spokeswoman for Central Maine Power.
Some school districts in Connecticut, including Waterbury, Danbury and Torrington, were closed Tuesday, while some districts in Massachusetts, including Worcester, North Andover and Framingham, said they'd dismiss students early, and afternoon and evening programs were canceled. There were parking bans in some communities.
Connecticut Gov. Dannel P. Malloy said he would partially activate the state's Emergency Operations Center on Tuesday to monitor conditions ahead of the afternoon rush hour.
Snow should still be falling through the evening commute and blustery winds could cut down visibility, according to the weather service.
The weather forced officials to lower the speed limit to 45 mph on the New Jersey Turnpike between the Delaware Memorial Bridge and the George Washington Bridge, and on the Garden State Parkway between Tinton Falls and the New York border. United Airlines canceled flights arriving from and departing for Newark, N.J., Tuesday morning and early afternoon.
The tracking website Flightaware.com estimates more than 300 flights were canceled nationwide Tuesday and more than 1,100 were delayed.
Hawley said the storm should end in southern New England by about 6 a.m. Wednesday and finally push off the coast of Maine by early afternoon. Once this system leaves, temperatures will gradually rise and bring rain, snow or a mix of both over the weekend.