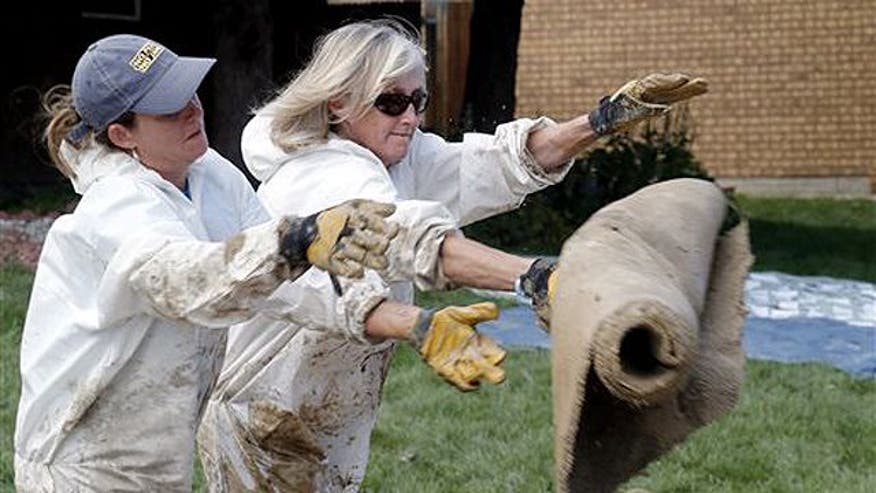 A body found in northern Colorado has been identified as an 80-year-old retired teacher and basketball coach who tried to return to his home amid a catastrophic flood.
The Boulder County coroner said Gerald Boland was found dead Thursday near Lyons, the small town in the foothills where he lived. An autopsy is planned.
Boland is the seventh confirmed death blamed on the floods. Three other people are missing and presumed dead.
Neighbors said Boland took his wife to safety on Sept. 12 but defied a mandatory evacuation order and tried to go back to their home. Two search teams had hunted for him Monday.
The number of people unaccounted for has plunged to about 140, thanks to rescues and restored communications.
Gov. John Hickenlooper appointed a Colorado executive to orchestrate the state's recovery efforts and a transportation group focused on expediting the rebuilding of highways and bridges.
Englewood-based IHS Inc. Executive Chairman Jerre Stead will oversee rebuilding and advocate for federal funding, Hickenlooper said. IHS is an information firm with experts in energy and economics.
Also Thursday, Hickenkooper said a new group within the Colorado Department of Transportation will try to repair and rebuild as much of the state highway system as possible by Dec. 1. More than 200 miles of state roads and 50 bridges were affected.
Authorities were studying how to accommodate the thousands of displaced, now that search and rescue operations have tapered off.
"Right now we're just moving from the life-saving mode to the life-sustaining mode," said Kevin Kline, director of the Colorado Division of Homeland Security and Emergency Management, describing the transition from rescues to getting people into safe housing.
In a sign of things to come, Trail Ridge Road through Rocky Mountain National Park — a key supply route to the flood-ravaged town of Estes Park — was temporarily closed because of snow early Thursday. The high-elevation road normally shuts down in October for the winter.
To the east, Colorado's flooding triggered at least two significant oil spills. Regulators said 323 barrels of oil spilled from an Anadarko Petroleum tank farm near Platteville. A second Anadarko tank spilled 125 barrels into the South Platte River.
Flooding along the South Platte River pushed into western Nebraska but caused little initial damage.
Amtrak said its Chicago-to-San Francisco California Zephyr train will be detoured through early October because of track damage in the Front Range foothills. Passengers will take buses to Glenwood Springs and Grand Junction, Colo., and to Green River, Helper and Provo, Utah, until repairs are completed.
The White House said Thursday that Vice President Joe Biden and his wife, Jill, will survey recovery efforts in Colorado on Monday.