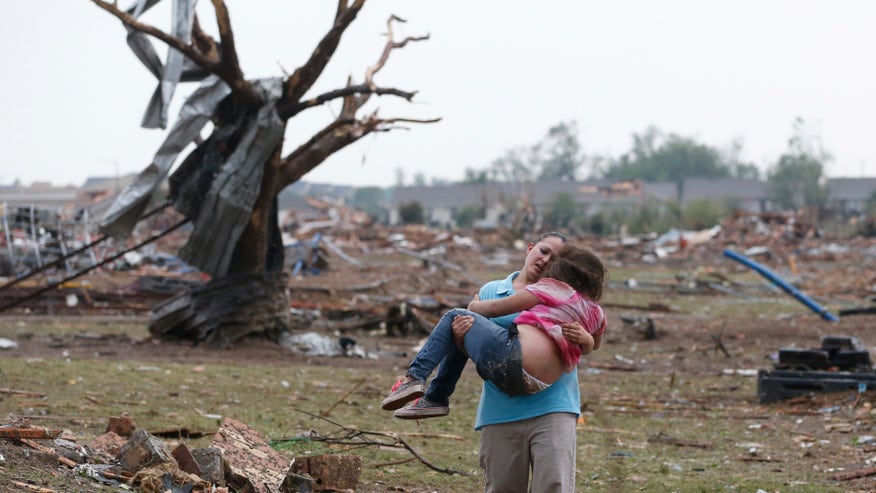 MOORE, Okla. – A massive tornado was carving its way through town. There was no time to hesitate. LaTisha Garcia had to get to her children.
And so she raced against the storm. She had 30 miles to cover from her job in Edmond to Plaza Towers Elementary School, where her 8-year-old daughter Jazmin Rodriguez is a third grader.
She lost.
The tornado got there first, and the destruction kept her from driving the final few hundred yards. And so she got out of her car and ran, arriving to find little left of the school and almost nothing of the neighborhood.
Panic set in.
Survivors of the storm were frantic, pulling children from the twisted metal and piles of concrete rubble that remained of what was once a school. She knew her three youngest children were safe at their daycare, but Jazmin was somewhere inside the rubble.
Terror came next.
"Right when I ran up to ask if I could start pulling people out or try to help, some guy just handed her to me," Garcia said. "I only recognized her from her clothes. My mind was in so many different places, I couldn't even remember what she wore that day."
Finally, relief.
The emotion seared on her face, she scooped her daughter into her arms and set off across the now barren landscape away from the place where seven of Jazmin's schoolmates had died.
An Associated Press photographer, Sue Ogrocki, captured the moment: Mother and daughter, clutching each other, making their way to safety through a decimated neighborhood. All that stood behind them was a tree stripped of its limbs and bark, brutally wrapped in sheet metal by the storm.
"It was a long way toward the end of the parking lot," Garcia recalled. "And she's a heavy girl. There were times I didn't think I was going to make it. But I did."
The picture was published on hundreds of front pages around the world, becoming one of the enduring images from the storm.