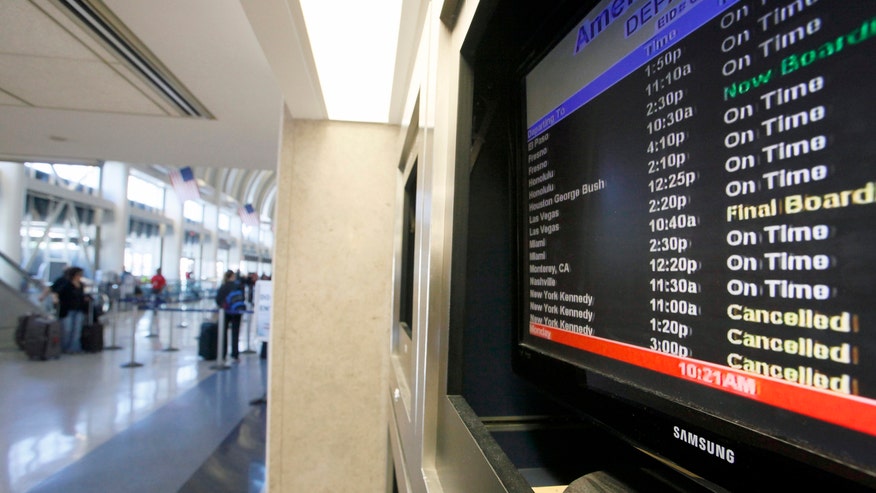 NEW YORK – Major airlines were canceling more than 1,000 flights in and out of the New York City area Wednesday ahead of the second significant storm in little more than a week. United, the world's largest airline, warned that the storm likely would cause more delays and cancellations throughout the U.S. Northeast.
United and American planned to suspend operations in the region in the afternoon. Other airlines encouraged passengers to reschedule, without a fee.
Airlines are quick to cancel flights ahead of major storms to avoid stranding aircraft and crews and lessen storm-related financial losses.
As of noon Eastern (1600 GMT), about 1,200 flights had been canceled for Wednesday, according to flight tracker FlightAware. About 40 percent were at Newark Liberty International Airport in New Jersey.
Superstorm Sandy last week led to more than 20,000 flight cancellations. The latest storm is weaker but still brings high winds, a mix of rain and snow and the potential for more flooding. Sandy flooded some airport runways when it hit.
United was suspending most service in New York. American Airlines was shutting down in New York at 3 p.m. (1900 GMT). It also was stopping flights to and from Philadelphia at noon (1600 GMT).
Most other airlines, including Delta Air Lines Inc. and JetBlue Airways Corp., were asking passengers to reschedule their Northeast flights for a later date and waiving the usual change fees of up to $150.
JetBlue, the biggest domestic airline at New York's John F. Kennedy Airport, said its operations had just gotten back to normal Monday.