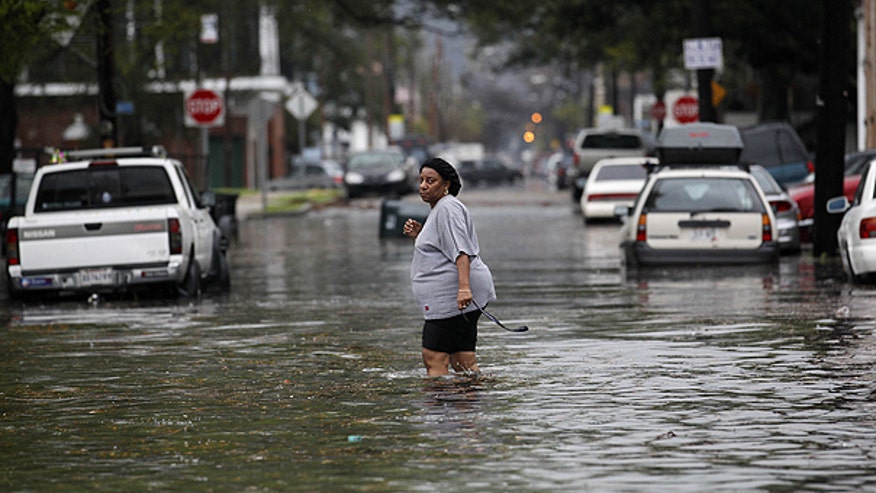 TRENTON, N.J. -- An emergency declaration from the governor has allowed the National Guard and state police to prepare for flooding expected from a severe storm system that was moving into the Northeast on Thursday after soaking parts of the Southeast, where it tore roofs off buildings and flipped cars.
The National Weather service warned of possible flooding in several New Jersey counties where a light, steady rain began falling early Thursday and heavy rain was likely. It told residents of portions of New York's Lower Hudson Valley to watch out for flooding, too, because 2 to 3 inches of rain were expected to fall from Thursday morning and into Friday.
The rain was expected to be fairly heavy in New York City and Connecticut by the Thursday morning rush hour.
Just a few days ago, a wild mix of snow, sleet and rain battered a wide swath of New England and upstate New York, dumping nearly 30 inches of snow on some areas, knocking out power to tens of thousands of utility customers, washing away homes and leaving many rivers and streams at high levels. Those swollen waterways, combined with the saturated soil, could result in moderate to major flooding, weather officials warned.
Weather advisories and flood watches were posted for much of Pennsylvania, where the storm system was expected to carry heavy rain to many areas and snow to some. A coastal flood watch also was posted.
In New Jersey, Gov. Chris Christie signed an executive order declaring a state of emergency late Wednesday in anticipation of flooding along the Ramapo, Passaic, Delaware and Raritan rivers, allowing emergency responders to mobilize early.
The Passaic River already is above flood stage in some spots and isn't expected to crest until Saturday.
On Wednesday, two apparent tornadoes damaged buildings and caused minor injuries near Mobile, in southwest Alabama, hours after several tornadoes were reported to the west in Louisiana. A woman died in a Mississippi house fire that authorities believe was caused by lightning.
Alabama and Louisiana's governors declared states of emergency, which allows them to request federal help in responding to the storms.
Alabama authorities said only minor injuries were reported despite the destruction there.
Ambulances, police cars and fire trucks with flashing lights descended on the Theodore area near Mobile after the storm struck, overturning vehicles, nearly demolishing a gas station, knocking down power lines and causing ammonia and natural gas leaks.
Evelyn Thibeault said she saw a twister go by her shipping business, Theodore Mail, Ship & More.
"My front door flew open, and a plant flew across the floor," she said. "Everything just turned white."
Torrential rains caused flooding across a wide area of the state, and damage was reported in at least 17 counties.
At least three tornadoes touched down in southeastern Louisiana on the heels of Mardi Gras season, which ended Tuesday night. A twister that hit Bush damaged a car, a truck, a home and a trailer and left a woman with a cut on her head, officials said.
The National Weather Service also reported tornadoes in Kenner, where no damage was reported, and around Lacombe, where a roof was torn off a house.
In the village of Tangipahoa, authorities used boats and pickup trucks to evacuate a mobile home park after heavy rains caused a creek to overflow its banks, flooding about 20 to 30 homes. About 130 people were displaced.