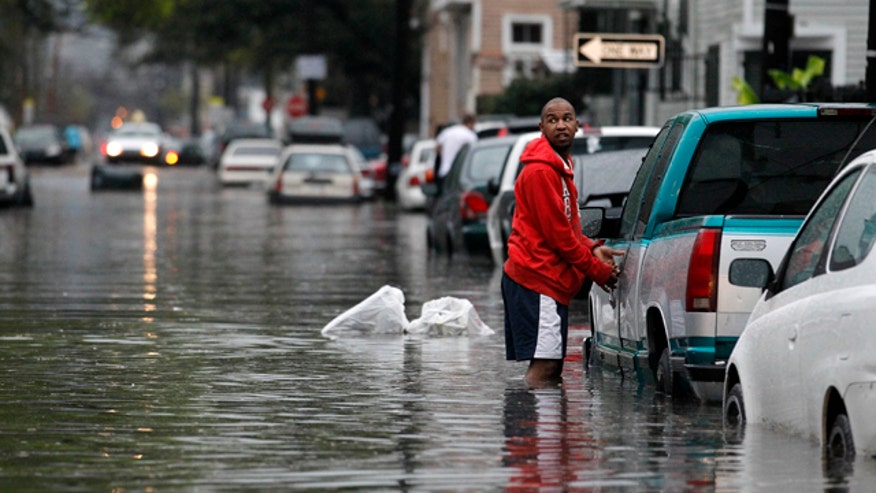 BUSH, La. -- A line of severe weather moving across the Southeast spawned three tornadoes Wednesday in the New Orleans area and dumped as much as seven inches of rain in parts of Mississippi.
The Louisiana tornadoes touched down early in the morning on the heels of the Mardi Gras season, which ended Tuesday night.
The New Orleans metropolitan area was under a flash flood warning as downpours ranging from 1 to 3 inches flooded some streets.
Forecaster Mike Shields said one tornado touched down about 10 miles southwest of Bush in St. Tammany Parish around 5:20 a.m. -- injuring one person, damaging a house, destroying a trailer and knocking down trees. Emergency officials said the woman suffered a cut on her head.
Firefighters in Lacombe reported a twister that took the roof off a house just before 5 a.m. And the weather service said a meteorologist reported a tornado on the north side of Kenner near Lake Pontchartrain shortly after 6 a.m. No damage was reported.
In Tangipahoa, authorities evacuated about 50 families from a mobile home park after heavy rains caused a creek to overflow.
Kentwood police dispatcher Garrett Herrington said boats from several law enforcement agencies were used Tuesday night and early Wednesday to rescue the residents from water that surrounded their trailers. The evacuees were then taken to a nearby shelter, Herrington said.
Strong winds accompanying thunderstorms in eastern Tennessee ripped part of the roof off a school. A section of roof was torn from Camp Creek Elementary School on Wednesday morning, The Greeneville Sun reported. No injuries were reported and there were no children at the school yet.
In Mississippi, reports of damage were sporadic but no deaths or injuries were immediately reported Wednesday by the Highway Patrol or emergency officials.
Daniel Lamb, a meteorologist with the National Weather Service in Jackson, said there had been reports of tornadoes around the state. He said weather service storm survey teams would be out later Wednesday to assess the damage.
In Biloxi, police reported damage at a trailer park and said at least one mobile home was destroyed. No injuries were reported.
Flash flood warnings were in effect in southeast Mississippi with watches issued for much of central and southern areas.
Forecasters were also expecting a day of rough weather in Alabama. The National Weather Service said winds gusting to 50 mph were possible across a wide section of the state along with torrential rains. Morning commuters struggled to open doors in Montgomery as whistling winds buffeted the area.