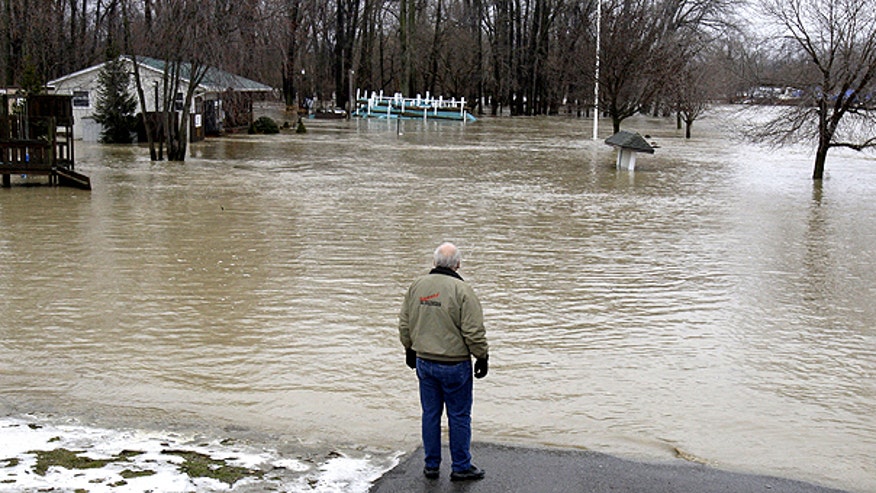 FINDLAY, Ohio -- Towns throughout Ohio and parts of the Midwest braced for more flooding Tuesday, a day after storms and tornadoes damaged buildings and homes in Indiana, Illinois and Kentucky.
Three tornadoes touched down in Indiana on Monday. A tornado destroyed three homes in Kentucky's Henry County, northeast of Louisville. And six people were treated at a hospital in Maryville, Ill., where the storm tore off part of the roof at a church.
A mix of melting snow and heavy rain threatened flooding in all 88 of Ohio's counties, the National Weather Service said. And it was likely to get worse Tuesday, particularly around Findlay, where residents know all too well what to do when faced with the threat of high waters.
Warren Krout lost just about everything inside his pawn shop when floodwaters swamped his store nearly four years ago. With the river rising again, he had help this time.
University of Findlay football players lugged mattresses, an air hockey table and reclining chairs to the second floor of Krout's store. "Stack it as tight as you possibly can," he told the young men.
What they couldn't carry was put up on concrete blocks or left to chance.
"Some of this stuff is just going to have to go down the river," Krout said Monday.
Sandbags were stacked throughout downtown as forecasts called for the Blanchard River to rise 6.5 feet above flood level. That's just a foot lower than the catastrophic August 2007 flood that swamped the town, 45 miles south of Toledo, and caused millions of dollars in damage.
The river was expected to rise overnight Monday before beginning to level off Tuesday morning.
"We anticipate a flood every time it rains," Krout said.
Parts of Ohio and Indiana received up to 3 inches of rain and some hail overnight Sunday. Crews in boats rescued nearly 30 people, including a group trapped in a mobile home park in western Ohio, said Mike Robbins, Mercer County's emergency management director.
Elsewhere, a tornado hit Celestine, Ind., a town of about 250, and damaged two homes and a double-wide trailer, the weather service said. A tornado that touched down near the small town of Ingalls, northeast of Indianapolis, damaged two homes, barns and a trailer.
"It was just a wind that kept getting stronger and stronger, to the point that we heard debris," Denise Arney, whose home was damaged, told WRTV in Indianapolis. "We knew we had to get downstairs."
Inside Krout's store Monday, the football players lifted display cases on to stacks of concrete blocks.
"I'm sweating like I'm coming out of a workout," said Richard Sumlin, a third-year student who helped pile sandbags during the last big flood in 2008.
City leaders said some houses will be in danger and drivers will find it difficult to cross town if floodwaters reach the levels predicted.
"If the predictions hold true, we'll be OK," said appliance store owner Jack Bindel. "But another foot could make a big difference."
Photos of past floods, including the 2007 deluge that ruined everything in his basement, decorate the wall behind his desk.
"People who live here understand it's going to flood," Bindel said.