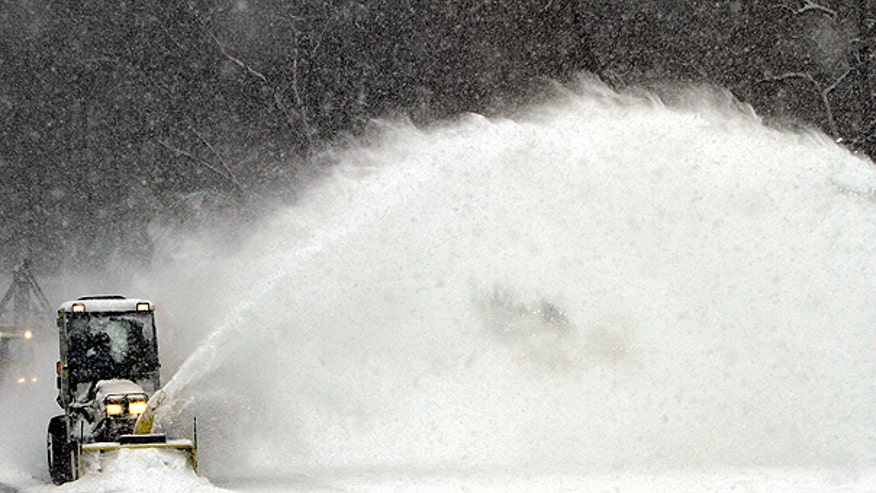 MONTPELIER, Vt. -- The East Coast storm that brought snow, sleet and freezing rain to the region Tuesday made travel tricky by foot, rail, car or plane.
Temperatures were expected to reach the mid to upper 30s on Wednesday, and another weak system moving through New England may drop an additional dusting of snow in some places.
"Nothing major though," said Eric Sinsabaugh of the National Weather Service in Gray, Maine.
The storm iced over roads all the way down to Delaware and delayed flights for tens of thousands of weather-weary travelers. Cars skidded off roads. Hundreds of schools were closed.
Up to 10 inches of snow was expected to pile up in New Hampshire before moving out early Wednesday. The state's coastal region braced for power outages, expecting ice to build up on power lines. But by Tuesday evening, the Public Service Company of New Hampshire, the state's largest utility, reported only about 50 customers were without power, all in Bedford.
A mix of snow, sleet, freezing rain and rain pummeled Maine. Residents in the northern part of the state welcomed the snow, though, hoping it would open up more cross-country skiing and snowmobile trails.
Other ski areas prayed the snow would only add to a strong base on the mountains to allow for the opening of tree skiing.
"It's really coming around," Killington resort spokesman Tom Horrocks said of the season in Vermont.
Sinsabaugh predicted ski areas would be OK after the storm.
"(They) will have to groom up a glazing of ice that is forming, especially in southern sections of Maine and New Hampshire. But, yeah, you got some nice powder underneath there."
The system hit less than a week after 2 feet of snow fell in parts of New York, New Jersey, Connecticut and elsewhere along the East Coast. Sinsabaugh said the storm was "a fairly benign event, nothing remarkable about it whatsoever -- just a nuisance."
"Ice and slush and cold rain. It beats a blizzard," said David Cairns, trying to keep his dress shoes from getting wet while crossing the street Tuesday in White Plains, N.Y.
More than 400 flights were canceled at New York's three main airports, most of them at Newark (N.J.) Liberty International. New York's LaGuardia Airport reported hour-and-a-half delays on arriving flights in the late morning.
Boston's Logan International kept its runways clear and open, but outgoing flights to several other cities affected by the storm were delayed.
Commuter rail lines in the northern suburbs of New York and in the Philadelphia area reported delays, and public works crews were dispatched throughout the region to clear debris from storm drains so melting snow wouldn't pool and cause flooding.
Patricia Ricciardi used a tissue to wipe sludge off the cuffs of her slacks in a south Philadelphia subway station as she headed downtown to work at her city job.
"I don't want to go to work looking like I came from a garage instead," she said. "It's disgusting."
New York City streets and sidewalks were a slushy mess, with pedestrians forced to cross large watery accumulations at street corners, and icy stretches of sidewalks were like Slip n' Slides. Cars threw gobs of slush onto anyone standing too close to the street.
Police in central Massachusetts were investigating whether the storm played a part in a crash that killed two Rhode Island men near a tiny town named Douglas. Police said the snow had just started to fall when the men's car hit a tractor-trailer.
Connecticut State Police Lt. J. Paul Vance said troopers were flooded with calls for help during the morning rush hour and had to deal with more than 70 collisions.
"The problem with every crash is that we had difficulty getting equipment to the crash site due to the volume of traffic and the slippery conditions," Vance said.