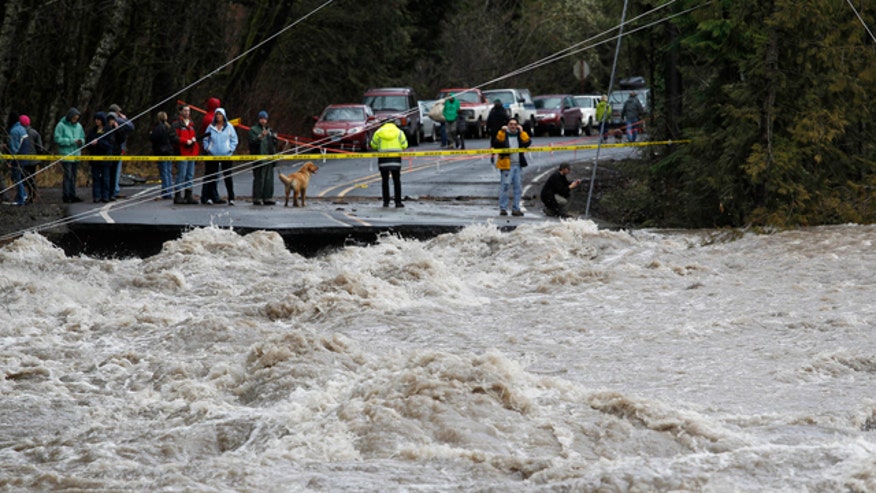 PORTLAND, Ore. -- Heavy rain and runoff from melting snow helped push the Sandy River across a road near Mount Hood, washing it out and forcing residents to evacuate on foot.
The washout Sunday on Lolo Pass Road near the town of Zigzag was part of the damage done across Oregon and Washington state by heavy weekend rains that caused landslides and minor flooding.
The weather was also blamed for at least one death when a Washington State Department of Transportation worker died after being hit by a falling tree.
Billy Rhynalds, 66, a 12-year veteran of the department, was setting up safety cones to alert motorists to power lines knocked down on Highway 203 just south of Carnation when the tree fell on his truck and killed him Sunday night, according to WSDOT officials.
On Mount Hood in Oregon, the Hoodland Fire Department sent teams on foot and ATVs Monday to reach people in 30 to 40 homes cut off when the river washed out about a 300-yard-long section of Lolo Pass Road Sunday night.
"There are trees everywhere -- it's like a bomb went off. I don't know how they're going to fix it," Becca Niday told KGW-TV as she headed out on foot.
According to the National Weather Service, as much as 6 to 10 inches of rain fell in about 24 hours in the Sandy River drainage while an additional 2 inches of snow melted on the flanks of Mount Hood.
The river appeared to have changed course when it washed out the road, also knocking out power to homes in the area.
KGW-TV reported that homes in the area are mostly rental properties and nearly all of them had been rented for the Martin Luther King Jr. holiday weekend.
Nearby, flooding forced the evacuation of at least 50 homes in the Welches and Rhododendron areas. Residents there scrambled to pile up sandbags to try and protect their homes as the Sandy River quickly rose.
In southern Oregon, a rapidly rising Rogue River put emergency crews on alert Sunday, but meteorologists did not expect the river to reach flood stage.
"There's a lot of water out there, but it's mostly staying in the banks," said Megan Woodhead, a National Weather Service meteorologist in Medford.
The rains in Oregon were pushing some rivers and streams over their banks at a time when many waterways were rising because of warming temperatures and melting snow, with some rivers reaching flood stage and more were expected to rise above that level.
"This was not one of the most significant floods that we've had, but slightly above what we'd classify as a nuisance flood," Gordon McCraw, Tillamook County Emergency Management director, told The Associated Press.
In Washington state, heavy rains were causing problems along the Pacific Coast and the Cascades Mountains with flood warnings issued for several waterways, officials and forecasters said.
Minor flooding was reported along several rivers, including the Cedar, Cowlitz, Snohomish, and Tolt.
"Flooding could wind down as early as Monday morning in some areas, but others may not see that until Tuesday," since it takes time for water to flow through some of the bigger rivers, said Dennis D'Amico, a meteorologist with the National Weather Service in Seattle.
A rockslide just north of Soap Lake in Washington struck some vehicles and injured two people, said Kyle Foreman, Grant County's public information officer. The slide also forced the closure of State Highway 17.
In Fall City, Wash., two people were rescued unharmed after they drove their car into a flooded road, The Seattle Times reported.
In Oregon, numerous mudslides were reported along the north coast, including Tillamook County, and in the Cascade Range.
Road crews cleared a large mudslide that shut down U.S. 26 east of Government Camp on Mount Hood, restoring traffic in both directions.
"Our crews really scrambled," said Brad Wurfel, Oregon Department of Transportation spokesman. "We had about everybody in the area working on it because there are no good detours available in the area."
Oregon State Police troopers estimated that the slide, which included trees, mud and large rocks, was is approximately 100 feet wide and several feet deep in some spots.
"There were a lot of landslides, the most significant of those was Highway 6, which is the road that goes from Tillamook over into the valley for us into Portland," said McCraw.
"Most of the rivers in the county crested above flood stage by about 2 to 3 feet, which caused some flooding of the roadways," he said.
Transportation officials on Monday reopened U.S. 20 approximately 17 miles east of Sweet Home after it was closed by a landslide that brought mud, rock and debris into the road.
Landslides also closed sections of three southwest Washington highways, including State Route 14 near Cape Horn, State Route 411 near Hazel Dell Road in Kelso and State Route 508 at Bear Canyon.
Meanwhile, in Washington, fire crews in Randle in the southwest went door-to-door warning residents to watch the rising Cowlitz River and be prepared to evacuate if necessary, Fire Chief Jeff Jaques said Sunday.
Logan Harris, a spokesman with King County Flood Warning Center, said the Snoqualmie and Tolt rivers crested Sunday afternoon and were receding.
"It's good news in that the rivers appear to have stabilized," he said. "It doesn't appear that the water levels will increase. There will still be some moderate flooding as the water works its way downstream."
He predicted the crest would reach Carnation in the morning and said residents should expect some moderate flooding and some roads would close.
Forecasters said drier and cooler weather should reach the region by Wednesday.