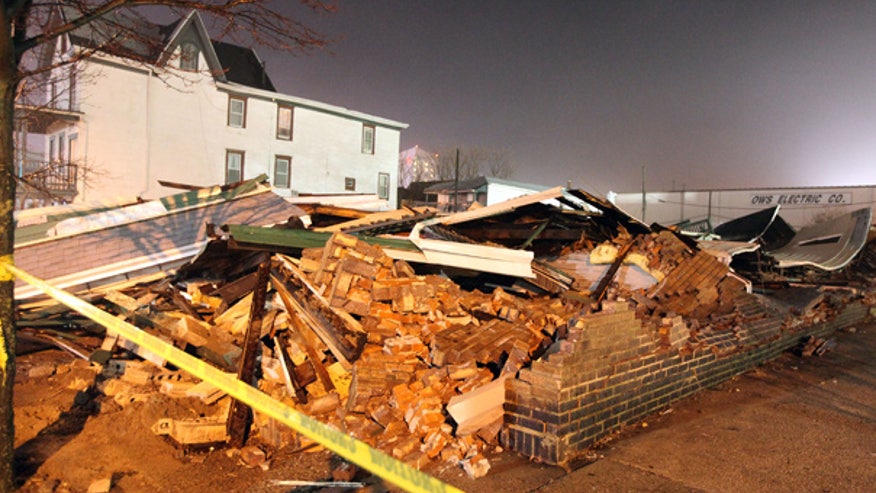 EGG HARBOR CITY, N.J. -- A torrential rainstorm that brought heavy winds to the Northeast, downing trees, flooding roadways and knocking out power, continued to pour rain on New England on Monday.
At least nine people died in storm-related accidents, and nearly half a million people were without electricity in Pennsylvania, New Jersey, New York and Connecticut at the peak of the storm.
The ferocious storm led to near-record numbers of 911 calls in New York. New York City experienced the second-highest volume of 911 calls ever. It got 65,000 calls between 11 p.m. Friday and 11 p.m. Saturday, second only to the 96,000 calls made during the 2003 blackout.
While the rain tapered off south of New York on Monday morning, wind-whipped precipitation continued to fall in New England.
In Boston, workers threw up sand bags around the entrance to a subway station near Fenway Park on Monday morning as the Muddy River rose and threatened the station. The Massachusetts Port Authority said the weather was causing some delays and cancellations at Logan International Airport and several low-lying roads and highway ramps in Massachusetts were closed.
There also were numerous road closures in southeastern New Hampshire due to flooding.
In New Jersey, Gov. Chris Christie declared a state of emergency, which would allow National Guard troops to be called up if needed. In signing the declaration Sunday night, Christie said he wants to ensure local and county resources are supplemented if needed.
Schools were closed in Massachusetts, Connecticut and New York on Monday.
Utility crews were making headway in restoring power. In New Jersey, more than 100,000 customers were without service Monday, down from a peak of 235,000. In Connecticut, two major utility companies said more than 57,000 customers were still without power, down from a peak of about 80,000.
The storm, which carried wind gusts of up to 70 mph, came about two weeks after heavy snow and hurricane-force winds left more than 1 million customers in the Northeast in the dark.
"I spent most of the past few months clearing snow and ice out my driveway, sidewalks, front walks, and now we're picking up all these branches," Jack Alexander said Sunday as he and his family worked to clear debris from the front yard of their Egg Harbor City home.
"It seems like we've had every type of weather event you could have this winter -- I'm almost afraid to see what else can happen."
In Atlantic City, N.J., residents in a condominium complex and two apartment buildings were ordered to leave their homes Saturday after a crane snapped and twisted at the Revel Entertainment casino construction site, sending debris crashing through a window of a police cruiser. No one was hurt. The residents may not be able to return until Tuesday.
Hundreds of people remained out of their homes in the northern New Jersey community of Bound Brook, where flooding is common.
Among those in a shelter were the Malik family, including eldest son Norbert, who celebrated his ninth birthday Sunday. His mom said he had cried Saturday night because he was worried the storm would ruin his celebration. Instead, he said it was the best birthday he ever had.
"I got to ride in a police boat, and then a truck and a small bus," said Norbert.
Falling trees proved to be a deadly hazard.
A New Jersey woman was killed and three others were injured in Westport, Conn., after a tree fell on a car Saturday night during the storm, police said. Another woman died when a tree struck her as she was walking in Greenwich, Conn., they said.
In the suburb of Teaneck, N.J., two neighbors were killed by a falling tree as they headed home from a prayer service at a synagogue. In Hartsdale, N.Y., another suburb, a man was killed when a large tree crushed the roof of his car and entangled it in live wires.
A 73-year-old woman was killed by a falling tree while walking to her car in Bay Shore, N.Y. Three people tried to save the Brooklyn woman.
In New Hampshire, a large pine tree fell on a car traveling on Interstate 93 on Sunday afternoon, killing a man and injuring his wife and child, state police said.
In Lyme, Conn., a 75-year-old man drowned accidentally Sunday afternoon in a pond behind his home. And in Rhode Island, an off-duty state trooper died early Sunday after his car hydroplaned in standing water left from the storm, state police said.