Endangered Species
Border reinforcements are meant to control the migration of people between countries, yet they also cut off wildlife from the food, water and mates their populations need to...
ENVIRONMENT
U.S. environmental regulators say that software allowing six-cylinder Volkswagen diesel engines to cheat on pollution tests is on more models than originally thought.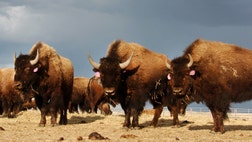 Environment
Yellowstone National Park proposes to kill roughly 1,000 wild bison this winter -- mostly calves and females -- as officials seek to reduce the animals' annual migration into...