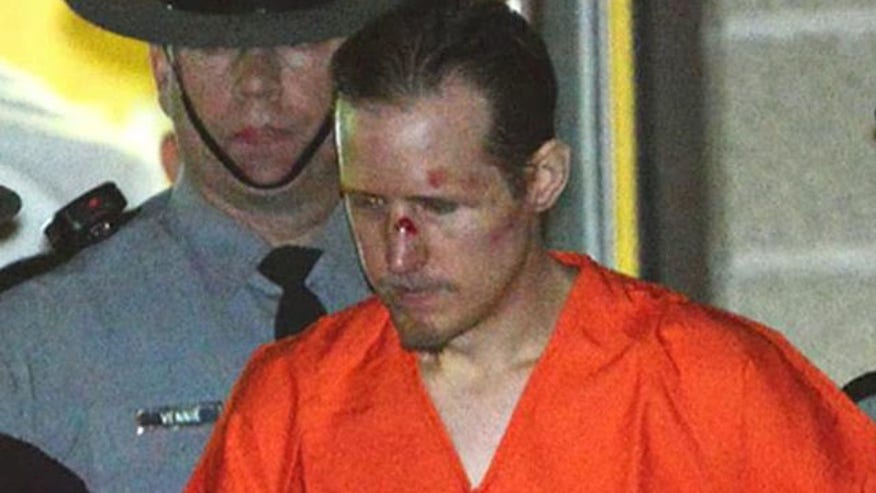 The anti-government survivalist who's accused of killing a Pennsylvania trooper and injuring a second at their barracks -- sparking a manhunt that lasted more than a month -- will not testify at his own trial, his defense attorney said Tuesday.
Eric Frein stands accused of opening fire outside a state police barracks in the Poconos in 2014. He could face a death sentence if he's convicted in the ambush that killed Cpl. Bryon Dickson II and critically wounded Trooper Alex Douglass.
OHIO AMBER ALERT FOR TWO KIDS APPARENTLY KIDNAPPED BY MOM'S BOYFRIEND
A prosecutor told jurors that Frein assassinated Dickson in an attempt to spark a revolution. Pike County First Assistant District Attorney Bruce DeSarro asked the panel to deliver "full justice" by convicting Frein.
Defense lawyer Michael Weinstein reminded jurors that Frein is presumed innocent and the government must prove its case. Weinstein said Frein, who led police on a 48-day manhunt before his capture, won't take the stand, but that jurors will hear portions of a 4-hour interview that was taped with Frein.
The state trooper who survived the shooting, Cpl Alex Douglas was seated in the back alongside Penn State Police personnel. Tiffany Dickson, the widow of Corporal Dickson, got so emotional during the judge's reading of the charges that she had to leave the courtroom abruptly.
Fox News' Shira Bush in Milford and The Associated Press contributed to this report.