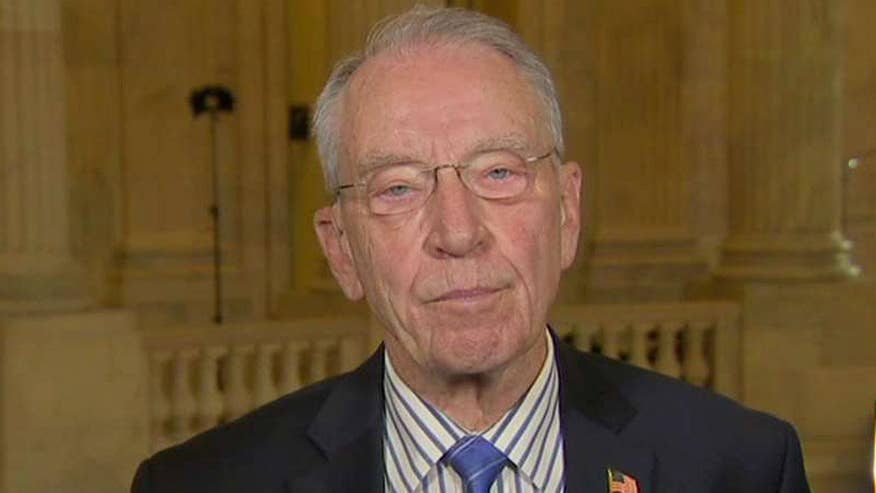 Sen. Chuck Grassley, R-Iowa, told Fox News' 'The First 100 Days' on Monday night that President Trump's pick to replace Antonin Scalia on the Supreme Court will in "one way or the other" will "get the necessary votes to get there."
Judge Neil Gorsuch's nomination cleared the committee earlier Monday on a party-line vote. More than 40 Democrats have said they would be willing to block the nomination, which could force Senate Majority Leader Mitch McConnell, R-Ky., to use the so-called "nuclear option" and change the rules so that Gorsuch's confirmation would only require a majority vote. (WATCH FNC'S MIKE EMANUEL REPORT LIVE AT 9 AM ET LIVE ON FOX NEWS CHANNEL FOR MOST RECENT GORSUCH NEWS)
'HANNITY': SEN. CRUZ TALKS GORSUCH, OBAMACARE FIGHT, WORKING WITH TRUMP
HANNITY: SENATE DEMS' HYPOCRISY ON FULL DISPLAY
'SHEPARD SMITH REPORTING': SENIOR REPORTER FOR POLITICO ON 'NUCLEAR OPTION'
HANNITY: RICE HAS 'A LOT OF EXPLAINING TO DO'
In his Opening Monologue on Monday (WATCH), Sean Hannity said former national security adviser Susan Rice "has a lot of explaining to do" about her role in 'unmasking' associates of President Trump caught in surveillance webs.
According to Fox News' Adam Housley, sources have named Rice as the member of the administration that initiated the unmasking, or identification, of those individuals.
'TUCKER CARLSON TONIGHT': SUSAN RICE REVELATION MORE DISTURBING THAN RUSSIA
SPECIAL REPORT: KRAUTHAMMER ON RICE REPORTS: WAS SHE PURSUING NATIONAL SECURITY
DOJ REMINDS US COMPANIES NOT TO RULE OUT AMERICANS FOR WORK
The Justice Department warned U.S. companies that it would investigate and prosecute employers that overlook qualified Americans for jobs. The stern message came on the same day as employers started to apply for coveted visas known as H-1B, which are used mostly by technology companies to bring in programmers and other specialized workers from other countries.
NEW CHAMPIONS IN NCAA MEN'S HOOPS
North Carolina's Justin Jackson's three-point play with 1:40 to play sparked an 8-0 run to close the game as North Carolina outlasted Gonzaga 71-65 in Monday night's NCAA men's basketball championship game.
COMING UP ON FNC
12:30 PM ET: President Trump makes remarks at the 2017 North America's Building Trades Unions Natl Legislative Conference. Washington Hilton. Watch live on Fox News Channel and FoxNews.com
COMING UP ON FOX BUSINESS
7:30 AM ET: Tim Armstrong, AOL CEO, on 'Mornings With Maria' to discuss AOL and Yahoo's plan to call themselves new name after Verizon deal: Oath