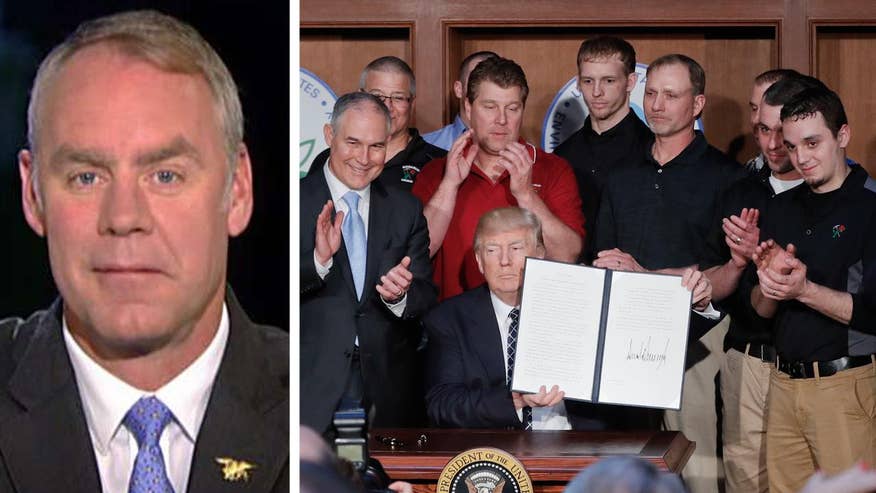 Two anti-abortion activists who made undercover videos of themselves trying to buy fetal tissue from Planned Parenthood were charged with 15 felonies, California prosecutors announced Tuesday. One of the activists called the charges "bogus" and that they were coming from "Planned Parenthood's political cronies."
'PRO-GROWTH,' 'PRO-ENVIRONMENT MESSAGE'
EPA Administrator Scott Pruitt told Fox News' "Hannity" Tuesday that President Trump's executive order rolling back former President Obama's fossil fuel regulations "sends a very pro-growth, pro-environment message." ruitt said the order Trump signed earlier Tuesday marked a return to "core EPA originalism ... advancing air quality, advancing water quality, but doing so with a sensitivity to creating jobs."
'HANNITY': EPA ADMINISTRATOR SPEAKS OUT ON TRUMP'S MOVE
'FIRST 100 DAYS' SEN. INHOFE ON TRUMP'S EXECUTIVE ORDER
MIKE EMMANUEL REPORTS THAT HOUSE REPUBLICANS LOOK TO REFOCUS AFTER HEALTH LAW FAILURE
COMING UP ON FOX BUSINESS: BOB MURRAY, CEO OF MURRAY ENERGY, TO BE INTERVIEWED ON 'MORNINGS WITH MARIA' AT 7:30 AM ET. MURRAY WILL TALK ABOUT TRUMP ORDER
BORDER WALL ISSUES
Republicans in Congress are considering delaying a decision on President Trump's request for $1.5 billion this year to begin construction on a border wall along the U.S.-Mexico border. Reuters reported Tuesday that some Republicans that the money needed for the project would likely not be in a spending bill that must pass next month to avoid a government shutdown. Sen. Roy Blunt, R-Mo., told Reuters that funding could be considered "at a later time."
CLINTON HITS REPUBLICANS
Hillary Clinton on Tuesday gave one of her first public speeches since losing the presidential election and criticized the much-circulated photo showing an all-male group of Republican lawmakers last month negotiating women's coverage in health care legislation.
COMING UP ON FNC
11 AM ET: FLOTUS presents the 2017 Secy of State's Intl Women of Courage Award during a ceremony the State Dept. Watch live on FoxNews.com
NOON ET: White House press briefing with Sean Spicer. Watch live on Fox News Channel and FoxNews.com
12:30 PM ET: Senate Judiciary head Grassley, others hold press conference on Supreme Court steps on Gorsuch nomination.