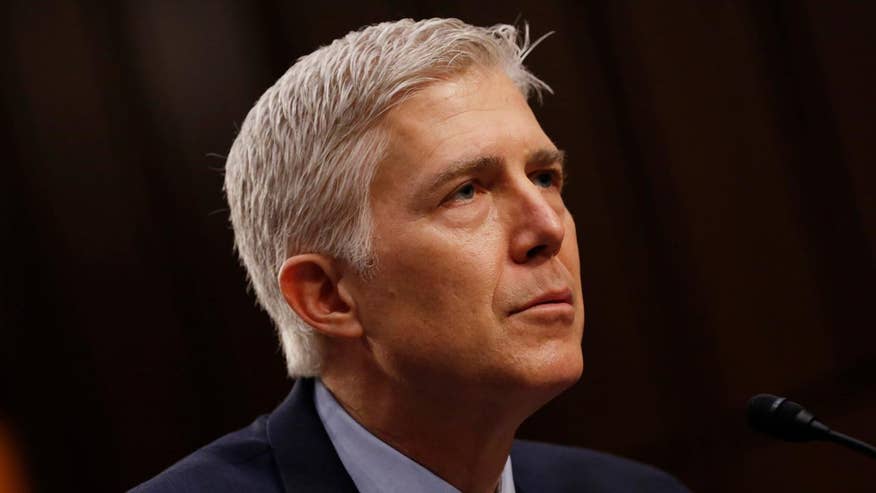 Senate Democrats on Tuesday pressed Supreme Court nominee Neil Gorsuch on his opinion on past High Court rulings that could help identify his ideological approach to the bench, but he appeared to have emerged from the hours of testimony relatively unscathed. (COMING UP: 9:30 AM ET: CONFIRMATION HEARING FOR JUDGE NEIL GORSUCH CONTINUES. WATCH LIVE ON FOX NEWS CHANNEL AND FOXNEWS.COM.) Gorsuch avoided any serious blunders despite a flurry of questions ranging from his opinion on Roe v. Wade and his opinion on the District of Columbia v. Heller-- the 2008 ruling that allowed handguns to be kept inside homes for self-defense.
HANNITY: GORSUCH MUST BE PREPARED FOR A FIGHT FROM THE LEFT
'TUCKER CARLSON TONIGHT': GORSUCH IS QUALIFIED FOR SCOTUS, BUT SHOULD HE BE CONFIRMED?
'O'REILLY FACTOR': BERNIE GOLDBERG ON THE PRESS AND GORSUCH
After 9 hrs of chairing Judic Comm SCOTUS hrg I handed the gavel to Sen Tillis Thx senator for taking over so I can run at 4 in the morning

— ChuckGrassley (@ChuckGrassley) March 22, 2017
RAPE FOCUSES CRITICAL ATTENTION ON 'SANCTUARY' STATES
The rape of a 14-year-old girl last week in a boys' bathroom of a Maryland high school, for which two immigrants have been charged, has fueled opposition to officials making the state a sanctuary for illegal immigrants. One suspect in last Thursday's attack is 17; the other is 18. Both were enrolled as freshman because of their weak English language skills. The two suspects, who were enrolled in Rockville's Montgomery High School, are from Central America. (FNC'S DOUG McKELWAY REPORTS LIVE AT 9 AM ET FROM ROCKVILLE HS ON FOX NEWS CHANNEL)
'HANNITY': MOTHERS OF SONS KILLED BY ILLEGAL IMMIGRANTS WEIGH IN ON SCANDAL
BORDER WALL FALLOUT
A San Francisco lawmaker proposed a bill Tuesday that would prohibit the city from doing business with construction companies that seek to work on President Trump's border wall during the bidding process.
RAND PAUL: I WILL VOTE NO AGAINST GOP HEALTH BILL
Sen. Rand Paul, R-Ky., told Fox Business' Lou Dobbs that he will vote against the American Health Care Act because it does not fully repeal Obamacare. He explains his replacement strategy.
WHY OBAMACARE MUST BE REPEALED BEFORE TRUMP'S TAX REFORM
COMING UP ON FOXBUSINESS.COM: Thanks to the approval of the reconciliation process to repeal Obamacare as a part of the budget last January, there are a variety of statutory barriers prohibiting the administration from moving onto tax reform before healthcare is completed. In addition to laying out those barriers, we show what could happen to the timeline for tax reform if healthcare isn't completed on schedule.
COMING UP ON FNC
9:30 AM ET: Supreme Court nominee Judge Neil Gorsuch appears again on Capitol Hill for Day 3 of his confirmation hearing.
10 AM ET: Former VP Biden, House Minority Leader Pelosi, and House Democrats hold a press event to mark seven years since President Obama signed the Affordable Care Act into law.
1: 30 PM ET: White House press briefing with Sean Spicer. Watch live on Fox News Channel and FoxNews.com. (FNC's SHANNON BREAM REPORTS FROM NYC ON THE HEARINGS AT 11 AM ET ON FOX NEWS CHANNEL)
MORE ON FOX BUSINESS
STARBUCKS MEETING
Starbucks CEO Howard Schultz greets shareholders for the last time today at the company's annual meeting. He is relinquishing his CEO role for another executive position. Follow Fox Business for updates throughout the day.
FEDEX ANALYST CALL
FedEx reported higher profit and revenue after the bell on Tuesday, but higher fuel costs kept results from topping Wall Street expectations. For Wednesday morning, we dig into any comments from candid talker CEO Fred Smith on the Trump administration's trade policies. Smith has been a vocal supporter of TPP. He has also downplayed any competition from Amazon's growing cargo plane biz. Follow updates throughout the day on FoxBusiness.com