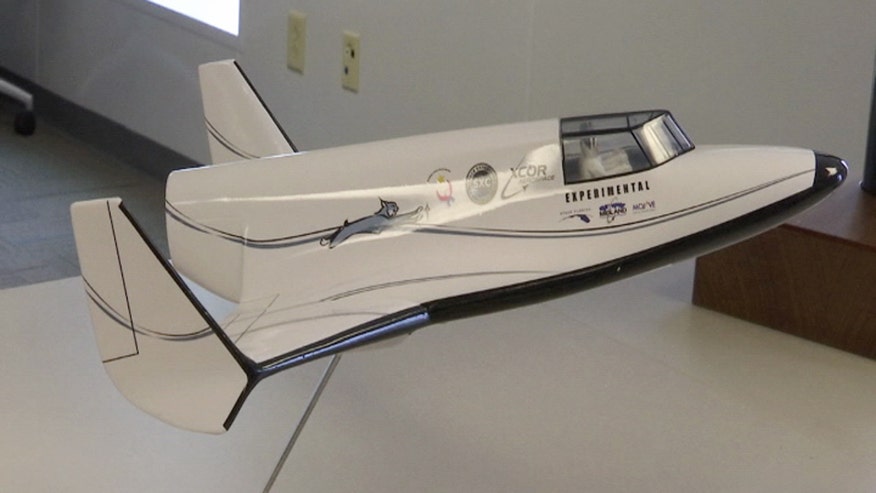 MIDLAND, Texas – Fly into Midland International Air and Space Port and it's evident what runs the economy, even before the plane lands.
Look out the window as the pilot makes the final descent and next to the flight control radar is a pump jack. The big blue water tower next to the airport proudly reads "Midland, Feel The Energy." The "L" in "Midland" is an oil rig.
But as veteran oil men get off the plane from Houston, Oklahoma or Casper, Wyoming, something might hit them. They just flew into Midland's Air and Spaceport. On a drive along the tarmac on a gloomy Thursday afternoon, three things were clearly visible: an active oil rig exploring for oil and gas less than a quarter mile away, a Southwest flight pulling in, and a massive 40 thousand square foot office and hangar with a big XCOR sign conspicuously displayed for all to see.
City leaders are trying to diversify the economy so it doesn't continue to go with the booms and busts of the oil industry. To do that, they're bringing in the space industry.
"It's supported by this community," said J. Ross Lacy, a Midland City Council member and President of the Air and Space Port. He said residents are on board.
"They understand our need to diversify the economy so we're not so dependent on oil and gas. That's our major contributor to our economy, we're not naive thinking that. But there was a lot of excitement," said Lacy.
Midland's economy has been dependent on the booms and busts of the oil industry for generations.
For example, George H.W. Bush moved his family from New Haven, Connecticut to Midland to start a career in oil exploration. George W. Bush went to Midland public schools. The 43rd president then went to Yale, Harvard and returned to Midland so he too could start a career in the oil business. It was then that he met a teacher named Laura.
Multiple space companies have already moved to Midland and more are on the way.
XCOR moved its headquarters to Midland from Mojave, California. They now have a 40 thousand square foot office and hangar facing the spaceport's runway. The company is on a mission to prove the commercial viability of space travel. Tickets to space from XCOR are on sale for $150,000.
"They've been very supportive of us financially, what they've done both directly and with facilities," said Jay Gibson, XCOR's CEO.
Orbital Outfitter's opened a 17,600 square foot office in Midland for small satellite testing, and spacesuit fabrication and testing.
While Lacy describes oil and gas as Midland's "bread and butter", he hopes the space industry will one day have a big enough presence in Midland to take the strain off the work force and provide for more jobs during oil busts.
But he admits, it's not there yet, and the space industry in Midland has not offset losses during the 2015-2016 oil bust.
Lacy, however, is confident in the space industry's long-term success in Midland. He doesn't think it will fizzle out. In fact, just the opposite. He hopes 10 to 15 years from now Midland will have enough jobs in the space industry to take strain off the work force should the oil and gas industry cut jobs.
"We're only on the tip of the iceberg. This industry is evolving and it's going to be something that you never even dreamed of," said Lacy. "So I can say confidently we're going to push forward, we're going to be a successful spaceport and we'll be a national and international presence."
Lacy said the town has a long term plans for the space industry in Midland, including putting together an incubator program to help startup companies in the space industry to have the laboratories in place to bring their product to market. Of course, it would also bring those companies and products to Midland.
So why would a space company open an office in Midland, Texas? Gibson said Midland is both economically welcoming and a good environment for families.
Executives and city leaders also believe there is a natural transition between many energy jobs and space jobs, because they're technical and require certain engineering backgrounds and an ability to work with machinery.
"A lot of the engineering, a lot of the operations, a lot of the fundamental skills in machining are very common," said Gibson. "And we find those very advantageous to us. Those skill sets are very transferable.
But from a business standpoint, executives said Pam Welch and Brent Hilliard from Midland's Development Corporation, who represent the city at space industry conferences, are very well researched, know how to make a pitch, and that is very impressive.
"The folks in Midland have taken the time to understand the market, to understand the customers, and understand the language to know what is attractive and how to bring folks here," said Gibson.
John Roth, vice president of business development and strategy for SNC's Space Systems, said the city is bustling.
"You can't go to a conference without seeing Pam or Brent or one of the folks there," he said. "And that's the way you get the buzz going.
Sierra Nevada Corp. was so impressed with Midland, during discussions about doing business in the city, the company decided to make Midland the only commercial spaceport compatible for landing it's Dream Chaser.
"It's going to bring a lot of attention wherever we do a landing," Roth said of the Dream Chaser. "We would expect to see thousands of people that would come out for a landing just like the original shuttle missions."