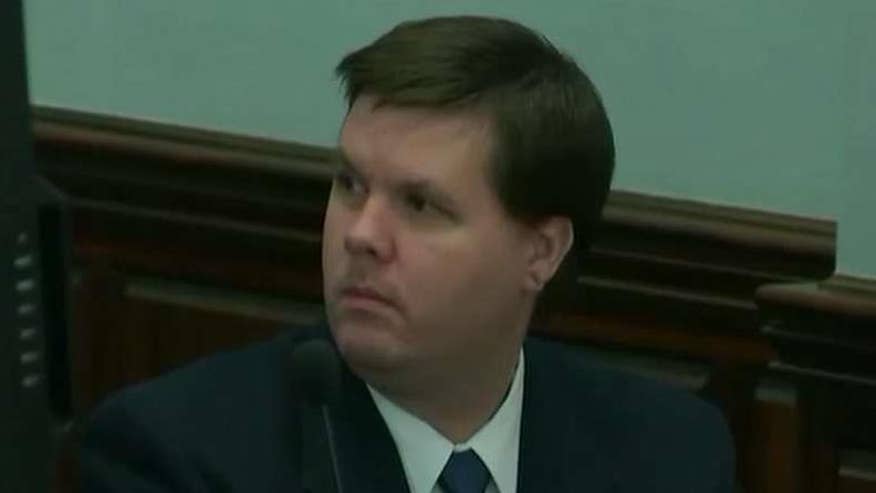 A jury has begun deliberations in the Ross Harris murder trial.
The more than one thousand pieces of evidence finally went back to the jury room around 9:30 a.m. Tuesday. Cobb County, Georgia, District Attorney Vic Reynolds was in the courtroom as the six men and six women began their deliberations.
Harris, who's accused of leaving his 22-month-old son in a hot car to die, seemed upbeat Tuesday morning and was even seen giving a fist bump to one of his attorneys.
ILLEGAL IMMIGRANT RELATIVE CHARGED WITH KILLING 10-YEAR-OLD TEXAS GIRL FOUND IN WELL
Jurors had two questions around 10:25 a.m. They wanted a transcript of Harris' interview with the lead detective in the case, Phil Stoddard. The attorneys said no, but they can watch a video of the interview. They also wanted a definition of "wanton," but the judge said no. She sent a note back to the jury telling them to rely on their collective understanding of the word as a jury.
The jury is considering eight counts against Harris, including malice murder, felony murder, cruelty to children and dissemination of harmful material to minors.
COUPLE CHARGED WITH MURDER AFTER SHERIFF'S VOLUNTEER FOUND BURNED, STABBED
The jury has heard testimony from dozens of witnesses since the trial began more than a month ago. Monday, the panel heard closing arguments from prosecutors and defense attorneys and by the time the presentations were over, Harris was breaking down in tears.
Prosecutor Chuck Boring told jurors Harris thought he could get away with murdering his child and hide behind trying to become an advocate for the campaign to take a second look.
"This defendant killed his son with a selfish, abandoned and malignant heart and left his son in the parking lot to die, attorney Boring opened his arguments with. "He sat there for 30 seconds, before closing the door on that little boy's life."
"Harris loved himself and other obsessions, more than that little boy," prosecutor Boring said.
The defense told jurors the police made their decision immediately on the scene and never considered this could have been an accident.
"We all have memory failures, this was a mistake...not a crime," Lead defense attorney Maddox Kilgore said.